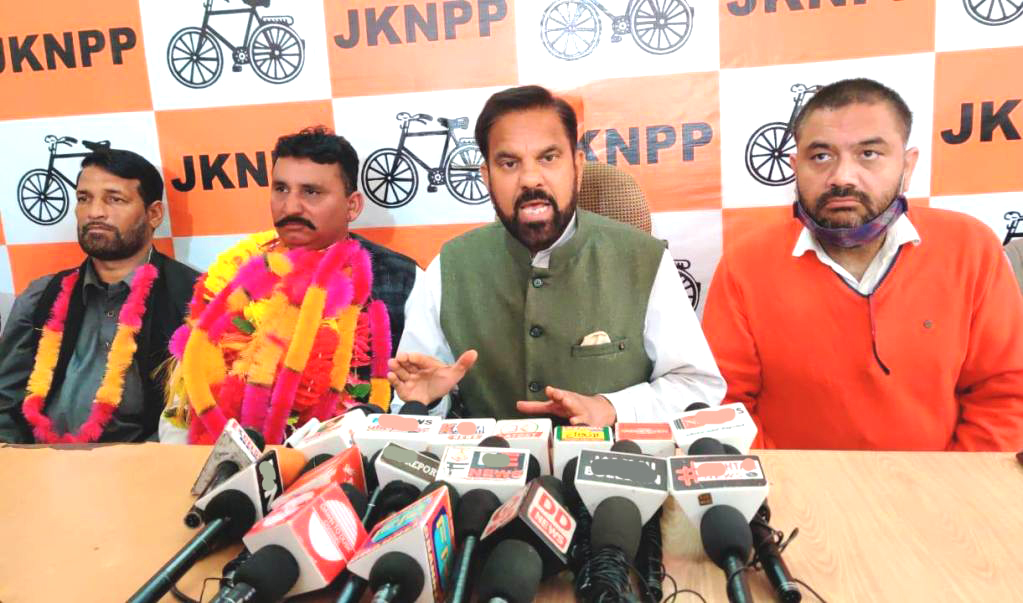 The Himalayan Mail, Jammu, Nov 18
Seeking the initiation of anti encroachment drive from the top by booking the encroacher Ministers, MLAs and MPs, Mr. Harsh Dev Singh JKNPP Chairman and Former Minister said that the movement would be successful only if the big fish having usurped State and Forest lands worth millions and trillions are evicted by the administration and punished under law before laying their hands upon the poor and the landless. Not only the encroachers of prime lands needed to be dispossessed and booked for grabbing govt lands but action was also required to be initiated against those officers who facilitated such large scale encroachments in circumvention of laws by colluding with the encroachers. He said that 18 lakhs kanal of govt land could not have been usurped by encroachers in the state without the backing and connivance of rulers with political and other influential persons holding prime lands without any lawful authority. He said that govt had deliberately avoided to put the names of encroacher politicians Ministers, MLAs etc on website despite the directions of High Court and was concentrating on eviction of poor and otherwise landless people which was highly condemnable. With several top politicians, Ex-Ministers, MLAs, MPs and several bureaucrats having encroached huge tracts of govt lands as revealed in media and through RTI besides through AQs in Assembly, a beginning was required to be made by evicting these mighty and powerful people who had abused their position and authority in the past to loot the state and its resources. He was addressing a press conference in Jammu today while admitting more than 100 youth in the Party who had quit their respective parties to join NPP.
Seeking early action and conclusion of eviction proceedings in a time bound manner against the big, mighty and powerful, Mr. Singh said that a white paper should also be issued as to how and why the palatial mansions and commercial hubs constructed on State and Forest lands by politicians and top bureaucrats had been granted immunity from legal and departmental action.
Inviting the attention of the Lt Governor towards the highly biased approach of the administration and officers below, Mr. Singh said that while the poor and marginalized sections of society were being ruthlessly demolished and bulldozed, the rich and the influential were left untouched and undisturbed despite they being the major offenders. He said that none of the Ministers, MLAs, MPs, top bureaucrats and other affluent people had been evicted from their unauthorized land holdings and illegal structures despite several reports of illegal encroachments against them. He said that several reports in the media as well as social media had indicated prime lands costing several millions to be in possession of these influential people. He pointed out that one BJP MLA of District Udhampur had been openly claiming that none can touch his land holdings despite RTI reply pointing towards 32 kanals and 15 marlas state land under his illegal possession including 10 kanals usurped under Roshni scheme. "Are such people above law or does the administration have two sets of laws in the state, one for rich and the other for poor" questioned Mr. Singh.
Making a particular mention of some of the prime residential colonies and other concrete structures developed by the powerful politicians by encroachment of State lands and destruction of Forests, Mr, Singh appealed the Lt Guv Administration to retrieve the State and Forest land from the Ministers, MLAs, MLCs, MPs and other bureaucrats in areas like Bhatindi, Sunjwan, Chowadi, Nagrota, Bajalta, Roop Nagar, Bantalab etc in the vicinity of Jammu city. He said that several thousands of kanals of govt land had been encroached by politicians and their cronies in the said areas mostly belonging to other districts and Kashmir Division and who had raised huge residential and commercial complexes in collusion with the Govt functionaries with such officers having provided even financial assistance for raising such constructions. It was a case of 'quid pro quo' as the officers provided financial and other support to their political masters and got prized postings in return. Likewise huge encroachments had been made in cities and towns on NHs besides JDA and Municipal lands in violation of Revenue, Forest, Municipal laws and Ribbon Development Act.
Asserting that politicians and bureaucrats were not above law, Mr. Singh sought appropriate action against all Ministers, legislators and bureaucrats who had encroached govt lands in conformity with the principles of law and equity together with an enquiry against the officers who had allowed such constructions by tempering and damaging records. Describing the selective action of administration govt against poor and uninfleuential as 'cowardice', besides "political corruption" of the highest order, Mr. Singh sought to ensure vacation of illegal possession of encroachers and other influentials by making a beginning from the Ministers, MLAs. "The cleansing of staircase must always start from the top", said Singh.
Mr. Gagan Pratap Singh, State Secretary–JKNPP, Mr. Ranjeet Singh, Mr. Romal Singh and Mohd Sharif were also present in the press conference.