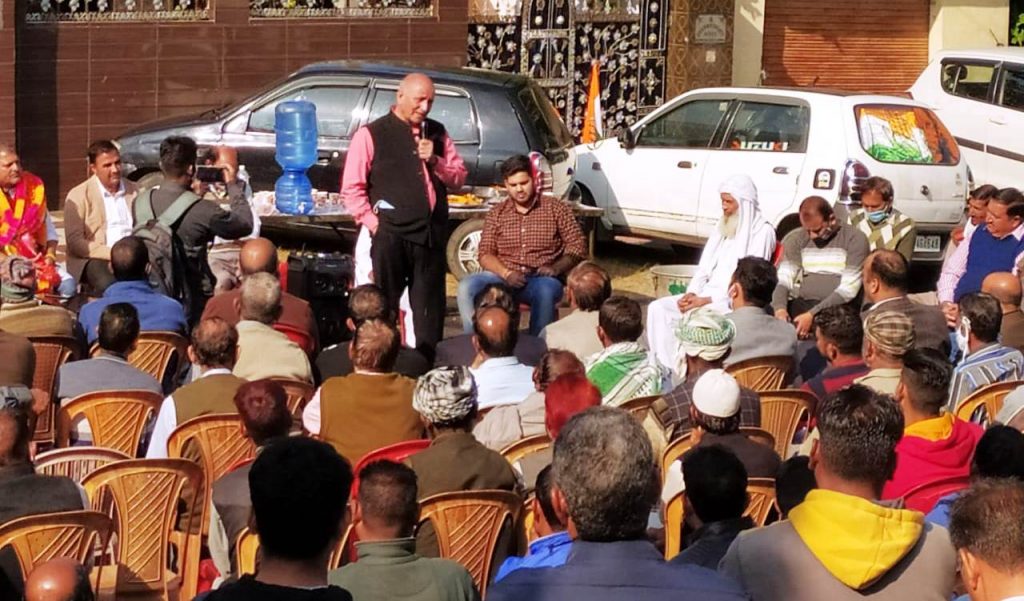 The Himalayan Mail, Jammu, November 18
Rajdev Singh Jamwal Congress candidate for Bhalwal DDC seat today filed his nomination papers amidst large number of people in the office of Returning Officer  Bhalwal today. PCC General Secretary and former MLA Thakur Balwan Singh and all prominent leaders and workers  of Bhalwal were present alongside of Rajdev Singh during filing his nomination. Prominent among those who accompanied him include  Kuldeep Raj-Chairman BDC, Rana Pratap Singh,  Advocate – J.P. Gandhi, Bhavishan Singh beside  others.
Speaking on the occasion, Th. Balwan Singh said that BJP government had promised with people for better days but till date they had done nothing in this regard as people of the areas facing many hardships. He alleged that they gathered votes during the election on fake promises and later turned nelson's eye towards the miseries of the people. He appealed to the people to strengthen the party at grass-root level and to support the party in polls. He said BJP who ruled Jammu and Kashmir along with PDP for three years has been exposed for its false promises. They have only one agenda i.e. divide and rule. Development for this political party (BJP) is only a slogan," he alleged. He said that he had represented this constituency in 1983 and did lot of work in the field of development and employment and the people of Bhalwal have deep regards and respects for him. Similarly Raj Dev Singh Jamwal has been serving them as local congress worker and Sarpanch. He expressed the hope and confidence that this time people of constituency will not repeat the mistake of 2014 after suffering a lot
Bhalwan lambasting BJP leadership said that during last 6 years unemployment has been all time high in the state and the country . Bhalwan said that people have understood the nefarious designs of BJP and further requested the people to raise the questions to BJP leadership when they come for votes that though after giving them huge mandate from Jammu region then also why they were neglected on all fronts..
After filing his nomination papers, Rajdev Singh thanked the party high command, particularly PCC President Shri G.A. Mir, Vice President Shri Mula Ram and General Secretary Th. Balwan Singh for reposing faith and trust on him.The Congress candidate said that our fight was for restoring the honour and dignity of the people of the state as also against those divisive forces who were trying to divide people in the name of region, religion, language, caste and creed.