20 lakh crore package only on papers, no relief to distressed People on ground: Bhalla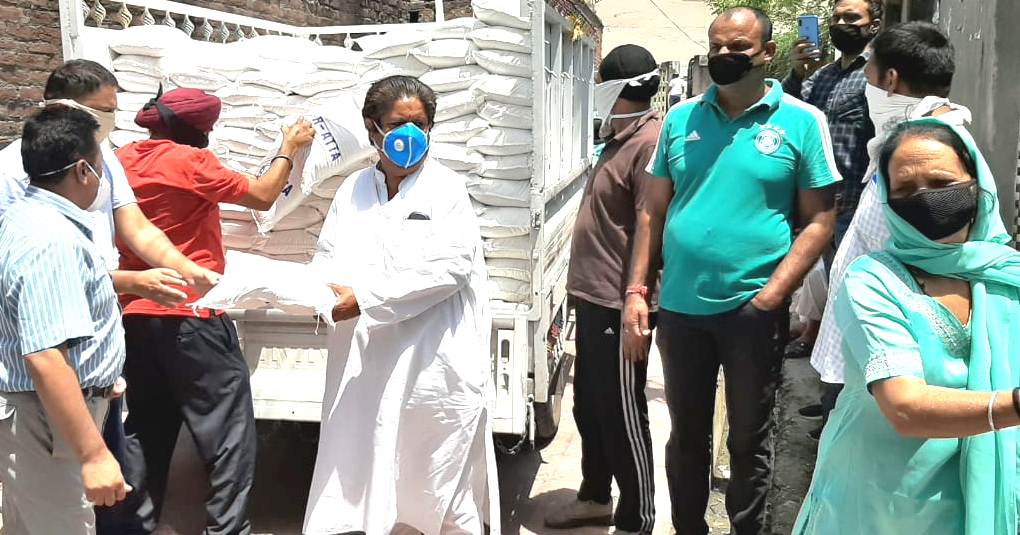 Former Minister and senior Congress leader Raman Bhalla on Sunday stressed upon the people to look into and take their responsibilities with regard to lessen the risks and chances of spreading coronavirus and take healthy benefit from the relaxation given by the government. They must wash their hands and sanitize them before going out, wear a face mask and plastic hand gloves, avoid making the crowd and keep a safe distance from others to ensure safety. He also advised the traders not to entertain those customers who do not take care of preventive measures. He also advised the people to give and take currency notes with great care as these notes can be most dangerous for spreading the virus. If people do not observe safety measure, the virus could be spread and the there will have no option but to enforce lockdown again, he concluded.
Bhalla said that Govt should utilize present time to create a massive testing infrastructure, so that even asymptomatic people could be tested and quarantined. That's the only way to manage the coronavirus pandemic until we get drugs and vaccines to administer enmasse. Sadly, Govt is doing little to address this concern about India not taking the mass-testing approach. We need fast testing, cheap testing, easily available testing — and a well laid out mechanism to quarantine a person the moment he is found positive, without letting them infect others, including medical staff and family members.
Bhalla reiterated that it is time to stand by the government. But when the sheer ineptitude and stubbornness of the government endangers the safety of people, it becomes important to seek accountability. Asking questions is a responsibility, said former Minister while accusing govt to read the gravity of impact of Covid-19 and each and every section of society. LG Administration's inability to get its act together even after more than two months has put the people of J&K at grave risk wandering what to do ,where to go to deal with current situation. There is overwhelming evidence that more and more people have run out of cash and are forced to stand in lines to collect free cooked food. He asked why cannot government save them from hunger and protect their dignity by transferring cash to every poor family, why can't government distribute, free of cost, a small part of the 77 million tonnes of grain with FCI to families who need the grain to feed themselves.
Meanwhile Former Minister on Sunday continued to extend his helping hand by distributing Food packet among needy persons in various parts of the Gandhi Nagar Constituency due COVID-19 pandemic. In this regard, Bhalla today distributed ration item at Bathindi ward -74, Mohalla satellite Colony, Mohalla Palliya Hill Colony, Mohalla Zuberabad, Mohalla Shamsdin.Prominent among those who accompanied Bhalla include Corporater Sobat Ali, Ch. Putto, Sarpanch Hafeez Hulla, Bittu Sharma, DCC General Secretary Urban Aman Bawa, DCC General Secretary Urban Jatin Vashisht, Iqbal Singh, Panch Faryad Ali, Panch Ayub khan, Block President Jatinder Singh, Paramjeet Singh, Panch Parveen Kumari, Panch Master Shed Mohd, Panch Naseem Ali, Chairman Panch Majeed, Bhardar Ali, Gagan Bral, GS Sodhi beside others.
The announcement of mega economic package seems to have no impact on those who turned jobless, homeless, foodless due to the lockdown. The government is trying to encash the COVID crisis by multiplied projection of the stimulus package. It is made to sound big but on ground of no help to migrants and poor. Bhalla slammed Govt for the false propaganda on economic package as it has singled out labourers, farmers, honest tax payers, MSMEs and cottage industry as beneficiaries of the package, it indicates that Govt is diligent in addressing issues of the segments whose lockdown woes the opposition has voiced, but whatever PM has promised seems fake on ground. The package brings not much relief to labourers, farmers and tax payers. The government and BJP machinery is evidently 'harping on miseries' of the poor population that fights to survive.
Though, central government has announced a slew of measures, which are aimed at benefiting the poor and restarting the economy stalled due to the lockdown. Many small enterprises have been given permission to resume work but practically there is serious gap between what Govt says and what is being implemented on ground. We have repeatedly sought the ramping up of Covid-19 testing and personal protection equipment (PPEs) for health workers besides urging government to spell out steps it plans to take to mitigate the woes of migrant labourers and farmers waiting to harvest their crops but nothing serious has been done on ground resulting in immense sufferings to all sections of society, asserted Bhalla.The government has completely failed in tackling coronavirus, in preventing it, in identifying people affected by the virus, in quarantining them, and in taking important steps," he said."This government runs on knee-jerk reactions, whether it comes to taking economic steps to revive or stabilising the economy and to prevent economic corona from affecting the investors' lifetime savings, or preventing coronavirus from spreading in this country," Bhalla further said.
Prevention is the key for stopping the spread of coronavirus," Bhalla said and asked whether adequate steps being taken for prevention of coronavirus. Bhalla sought the immediate intervention of Lt Governor to help the poor people facing difficulties in combating the Coronavirus and lockdown situation. He said there were inadequate provisions of appropriate Personal Protection Equipment in government hospitals. He also sought the Lt Governor's intervention to give at least Rs. 5000/- per family for BPL families irrespective of whether they have a white ration card or not. Since the outbreak of the pandemic in India, poor have got nothing but false promises. Sudden lockdown created chaos and government failed to handle emerging situation.The heart breaking human tragedy of migrant workers walking back home needed compassion, care & safe return but the government fails to show any empathy.
Unemployment is likely to increase further as economic activity remains at standstill," Bhalla said, expressing concern over the state of the economy amidst the novel coronavirus pandemic."Sections of our society, especially farmers, labourers and migrant workers, are facing acute hardship due to the lockdown," he stated."Trade, commerce and industry have come to virtual halt and crores of livelihoods have been destroyed," he said. He said there was "confusion" within the central government in its fight against the novel coronavirus and wondered how would India tackle the pandemic if officials continued to speak in different voices. He said the government should tell the people clearly about the exact state of the pandemic to enable them to prepare accordingly. He also called upon the central government to spell out a clear lockdown-exit policy. He said the entire country had to fight the crisis "unitedly" and the states needed to have adequate resources to deal with the crisis in a nuanced manner. He also suggested the implementation of the NYAY scheme — a social welfare programme introduced by the party during the 2019 general elections.