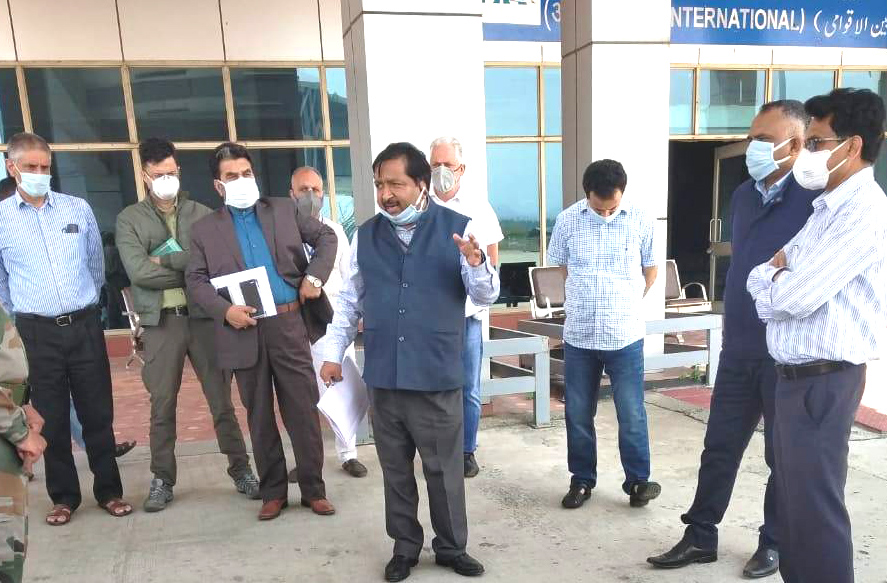 With partial resumption of air travel and nine flights expected to arrive at the Srinagar Airport on Monday 25th May, Principal Secretary to Government Dheeraj Gupta, who has been nominated as Nodal Officer to oversee arrangements at Srinagar Airport, today reviewed the facilities at Srinagar airport and finalised the standard operating procedure (SOP) for receiving and facilitating the passengers at the Airport.
Among other officers, the meeting was attended by Divisional Commissioner Kashmir P.K Pole, Secretary Tourism Zubair Ahmad, Deputy Commissioners of Srinagar and Budgam, Director Srinagar Airport, Commissioner SMC, Director Health Service Kashmir, Director Industries, officers from Army & Paramilitary forces and senior police officers.
          It was stated in the meeting that as per the protocol being followed in UT of J&K under the Disaster Management Act, all passengers coming to J&K by air shall be kept in Institutional quarantine for 14 days and tested for Covid 19. Their sampling shall be done at the Srinagar Airport and transport arrangement to their respective districts has been put in place. The test samples shall be sent to the SKIMS and those passengers who test negative shall be sent home and if positive sent to hospital.
The passengers shall be lodged in various accommodations arranged by the concerned District Administration. Besides, paid quarantine facility has also been made available for the passengers for their convenience.
Giving details, the meeting was informed that the passengers after disembarking at Srinagar Airport shall have to fill up their particulars in a form devised by the Indian Council of Medical Research. After capturing their information at the Help Desks, their samples for covid-19 test shall be taken for which 30 Testing Kiosks have been set up at the Airport. The passengers shall be taken to the Administrative Quarantine facilities for which adequate transport is being provided by State Road Transport Corporation. The officials at the Airport would also check the status of Aarogya Setu application on mobile devices, carry out thermal screening at the departure point of airports and passengers showing some symptoms would not be allowed to board the flight.
Besides, officials from the Army and Para-military Forces shall identify their passengers returning for duty and they shall be taken to the Quarantine facilities set up by the Army & CAPF separately where their sampling shall also be taken for testing.
Several decisions were taken on the occasion with regard to devising of roster for health and administrative staff to work in shifts, computerisation of data, accommodation of staff at nearby location, conveyance facilities for staff and making available food and refreshment at Srinagar Airport.
Srinagar Municipal Corporation has also made appropriate arrangements for sanitisation and set up disinfectant tunnels at Srinagar Airport. The Terminal building and vehicles pressed into service shall also be fumigated by the SMC on daily basis.
The officers took a round of the entire Airport terminal to see the arrangements. Instructions were given to Health workers and Administrative staff to carry out demos so that operations run smoothly and passengers feel comfortable on their arrival.