Calls for 'serious talks' with PM Modi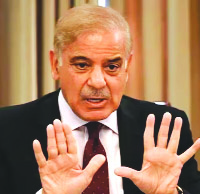 ISLAMABAD, Jan 17: Pakistan Prime Minister Shehbaz Sharif has sought "serious" and "sincere" talks with his Indian counterpart Narendra Modi for the resolution of the "burning" issues, including on Kashmir, and said the UAE could play an important role in facilitating the resumption of dialogue between the two nuclear-armed neighbours.
Prime Minister Sharif made these comments during an interview with a Dubai-based news channel.
Relations between India and Pakistan have been strained over the Kashmir issue and cross-border terrorism emanating from Pakistan. India has previously rejected any third-party mediation on the Kashmir issue.
"My message to the Indian leadership and Prime Minister Narendra Modi is that let us sit down on the table and have serious and sincere talks to resolve our burning issues like Kashmir," Sharif said.
He said Pakistan and India are neighbours and have to "live with each other."
"It is up to us to live peacefully, make progress or quarrel with each other, and waste time and resources. We have three wars with India and it only brought more misery, poverty, and unemployment to the people," he explained.
"We have learned our lesson and we want to live in peace provided we are able to resolve our genuine problems. We want to alleviate poverty, achieve prosperity, and provide education and health facilities and employment to our people and not waste our resources on bombs and ammunition, that is the message I want to give to Prime Minister Modi," he elaborated.
India has maintained that terrorism and talks cannot go together and Islamabad should provide a conducive atmosphere for resumption of dialogue.
The ties between the two countries nosedived after India abrogated Article 370 of the Constitution, revoking the special status of Jammu and Kashmir and bifurcating the State into two Union Territories on August 5, 2019.
India's decision evoked a strong reaction from Pakistan, which downgraded diplomatic ties and expelled the Indian envoy.
Trade ties between Pakistan and India have essentially been frozen since then.
"We are nuclear powers, armed to the teeth and if God forbid a war breaks out, who will live to tell what happened," he warned.
During the interview, Sharif said the United Arab Emirates (UAE) leadership could play an important role in bringing Pakistan and India together.
New Delhi has maintained that Kashmir is a bilateral issue between India and Pakistan and no third country has a role in it.
"The Union Territory of Jammu & Kashmir and the Union Territory of
Ladakh are and always will be integral and inalienable parts of India. No other country has a locus standi to comment on the same," the Ministry of External Affairs has said previously.
Sharif said the UAE was a second home for millions of Pakistanis, days after he visited the Gulf nation, which was aimed at securing fresh loans, ramping up bilateral cooperation and trade ties.
He also lauded Saudi Arabia for being a "friendly and brotherly country."
"Before Pakistan came into being, and was carved out of India, millions of Muslims had brotherly relations with Saudi Arabia and were visiting Makkah and Madina," he added.
Last week, Pakistan's Foreign Office said it welcomed third-party mediation in the resolution of all outstanding issues with India, including Kashmir.