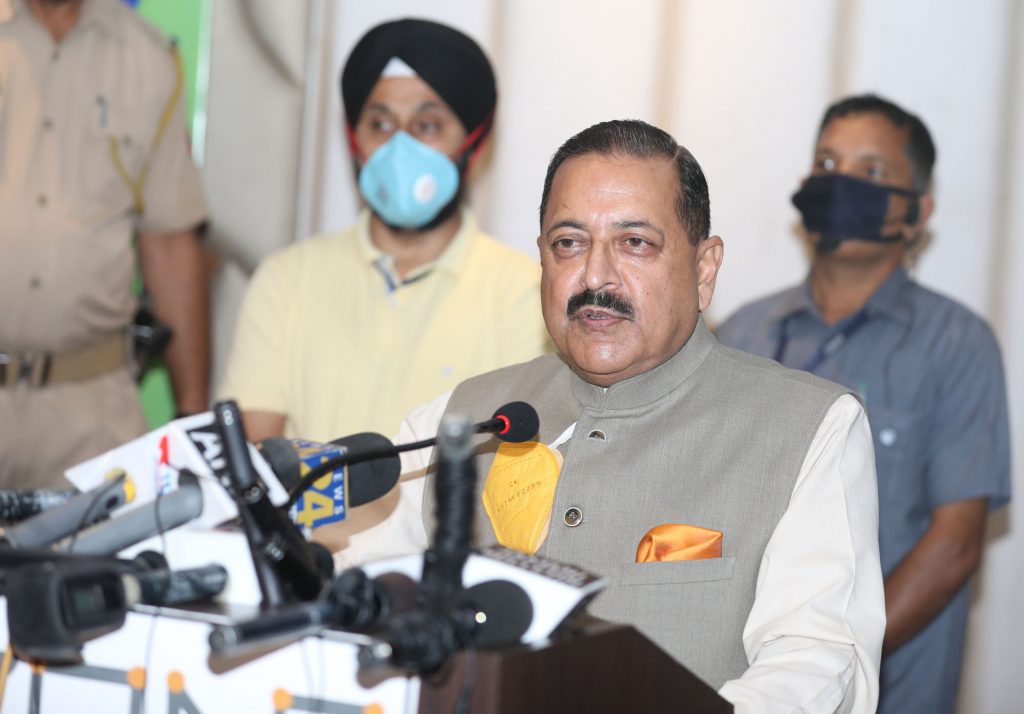 Himalayan Mail, Jammu, October 01
Dr. Jitendra Singh MoS of M/o DoNER and MoS for PMO; Personnel, Public Grievances and Pensions; Department of Atomic Energy and Department of Space today said that the recent Farm legislations passed by the parliament were representative of democratization of Indian Agriculture since they provided freedom of choice to the farming community. He said that these legislations were progressive would provide impetus to Indian agriculture to complete at a global stage while protecting farmers interests and improving farm incomes. Dr Singh said this while addressing media at Press conference at Jammu on "Empowerment of farmers" on the recent Farm legislations passed by the parliament. Sh. Jugal Kishore Sharma, Member Parliament(LokSabha), Sh. Shamsher Singh Manhas, Member Parliament (RajyaSabha), Shri KK Sharma, Advisor to Hon'ble Lt. Governor, ShriNavin K Choudhary ,Principle Secretary, Department of Agriculture Production , J&K were also present on the occasion.
While briefing the media Dr Jitendra Singh said that the Government led by Prime Minister Narendra Modi laid the greatest emphasis on the welfare and upliftment of the poor and backward sections. While mentioning about the benefits of the recent farm legislations, Dr Singh said that the producers i.e., the farming community deserved better opportunities and freedom of choice. Since the present system had certain restrictions interms of marketing the farm produce, the recent legislations would provide wide variety of competitive choices for the producers for marketing. He said that to make Indian agriculture competitive, revolutionary and transformational reforms were needed that would result in increasedproductivity and increased. He further said that recentlegislations would alsohelp create employment and entrepreneurship opportunities in agriculture and allied sectors thereby increasing farm incomes on which more than half of Indian population is dependent.
Dr Singh said that the Union Government's committed to the welfare and empowerment offarmers was evident from a range of progressive initiatives implemented across the length and breadth of the country. These included PM KisanSammanNidhi, FasalBimaYojna, Kisan Credit Card, Soil Health Cards, dedicated bamboo Culsters, Fruit parks etc. He further mentioned that the MSP for Wheat rice, soye and other farm commodities had been increasing continuously since 2015-16 as a consequence of progressive and conscious efforts made by the government in farmer's interest. While substantiating his statement Dr. Singh said that for wheat the MSP per Quintal was Rs.1526 in 2015-16, Rs. 1625 in 2016-17, Rs. 1735 in 2017-18, Rs.1640 in 2018-19, Rs. 1840 in 2019-20 and Rs. 1925 in 2020-21. He mentioned that the farm output had also been increasing even during as the country was hit by Covid 19 pandemic.
While allying away fearsrelated to the farm legislations Dr Singh said that there was need for greater awareness on the issue since many misconceptions and false narratives were being created on the issue. While mentioning about contract farming, Dr Singh said that there were enough safeguards being provided for the farmers under the contracts that the farmers may be entering into. He said that these contracts were voluntary and the farmers were not bound by these contractssince these could be dissolved anytime. He also said that the new age farmers , that he referred to as ' New-Age Agriculture Technocrats',deserved equal opportunities to market their produce as like other technocrats or entrepreneurs since they were no longer tied to the prices of the Mandis. He further said that in the new legislations there were provisions for procuring produce at MSP by the intending farmers in addition to other options that were not available earlier. He also said that the move would increase trading on electronic platforms leading to greater efficiency and transparency. It would also attract investment and technological interventions in agriculture equally available to big and small farmers.
Earlier Jugal Kishore Sharma, MP, Loksabha also mentioned about the benefits of the farm legislations and also the need to spread awareness about the various the various provisions in the interest of farmers. Shri Chandra Mohan Gupta, Mayor , JMC and SmtPurnima Sharma, Dy Mayor, JMC, Neha Jalali, Deputy Director , Press Information Bureau and Regional Outreach Bureau, Ministry of Information & Broadcasting , Government of India were also present on the occasion. An Exhibition on Birth Anniversary of Mahatma Gandhi was also organized by Regional Outreach Bureau J&K at the venue.