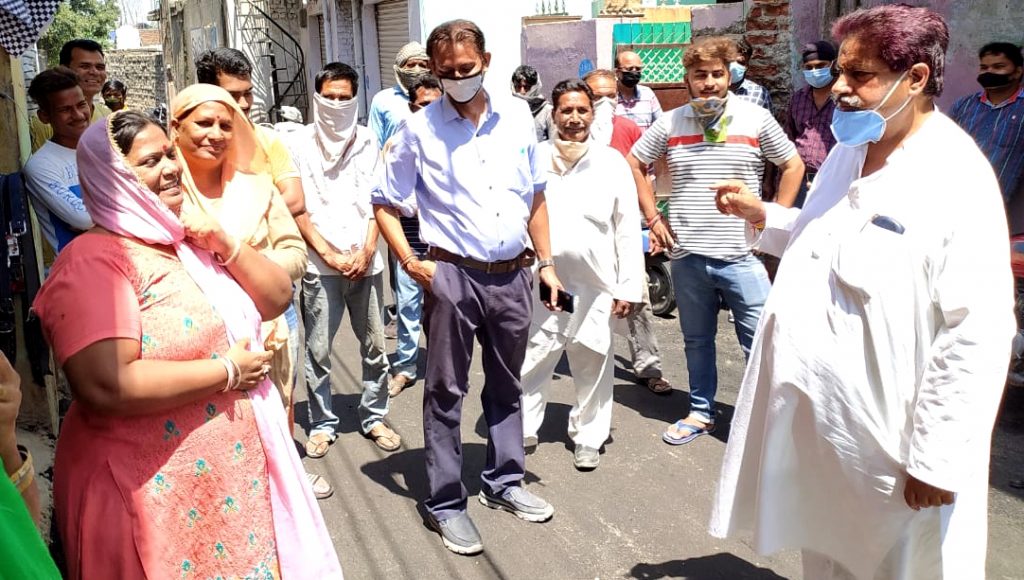 Former Minister and senior Congress leader Raman Bhalla on Monday expressed utter disappointment of Defence Minister's virtual rally failing to touch burning issues of J&K and has termed it futile exercise to reach out to the common man and address public issues. Interacting with prominent persons of Gangyal in Gandhi Nagar Constituency , Bhalla said BJP Govt is turning a blind eye towards the apprehensions and concerns of people of J&K, especially Jammu region. Taking a dig at Union Govt, Bhalla claimed that Jammu region is reeling under shortage of various basic requirements but Govt is unmoved. Prominent among those present on the occasion include Block President Satish Sharma, Arjun Kumar, Abhi Kumar, Sat Mehta, Kaka Ram, Sanjay Sharma beside others.He said Govt lacks approach which is based on consistency, clarity, conviction and creating only mess making people to suffer unnecessarily without any fault of theirs. Former Minister reminded BJP of fate of ambitious and prestigious developmental projects of Jammu where party did nothing in implementation of the flagship programme of Deen Dayal Upadhyaya Gram Jyoti Yojna, designed to provide continuous power supply to rural areas, Artificial River Tawi Lake Project and its allied project with regard to beautification of the Suryaputri water body, Jammu Gandola, Smart City Project.
Bhalla observed that BJP regime has antagonized all sections of people whether it is the youth, government employees, women or even children, this government has hurt every section of the society. Making a sketching attack on BJP, Bhalla regretted that people of the Jammu region are back stabbed by BJP leadership as the party has brazenly abandoned its core agenda and has adopted indifferent approach towards problems of the masses. He particularly mentioned the water crisis in the area following which general public of the area going through extreme hardships to manage water for household affairs be it drinking water, water for cooking and bathing. Expressing his anguish over mounting problems of the common masses, Bhalla said that during last six years union govt has done nothing to solve basic problems of the people and added , "Claims of Gov are confined only on papers".
Former Minister said Government has totally lost its credibility due to its mis-governance, which led to the failure of government on all the fronts. He said problems like lack of basic amenities, unemployment and inflation in the J&K forced the common man to live in miserable conditions. Bhalla said that majority of people during interaction maintained that no new developments but only facelifts of previous works were done in the area."BJP was in power at the Centre and in the erstwhile J&K State too, it was easy for the party to forward issues of common masses through their Government in J&K to the Union Ministry concerned, for mitigating the sufferings of people but they took them casually," Bhalla said .He pointed out that there was total chaos and confusion among people as BJP leadership has failed to remove peoples' apprehensions. "On the one hand, there is complete uncertainty in J&K, while on the other hand people are confronting with failure of the administration to solve day today problems", he said, adding that most parts of the city are facing scarcity of potable water and power and dilapidated condition of lanes.
"Even after one year since Panchayat elections, the development activities in rural areas have come to a standstill due to non-availability of funds. Panchayats are virtually defunct and rural populace is crying for development," Bhalla said.He alleged that Back to Village Programme' of the Union Government turned merely flop show as the works projected by different Panchayats and local villagers across the Jammu and Kashmir during Ist phase of Back to Village Programme' could not be implemented till date.Panchayats are not being taken into confidence or involved in the programme. He reiterated his pledge to continue his crusade against the discrimination unless all the aspirations of the people were addressed and fulfilled in letter and spirit.
Former Minister expressed anguish over the ongoing anti-working class policies of Central Government which are causing innumerable hardships on the lives of common people in general and the working class in particular.Bhalla said that the alarming unemployment, price rise of essential commodities, large scale disinvestment of public sector units, attack on social security system like pension, amendment in labour laws in favour of corporate, outsourcing, unbundling of Govt departments in a massive way with the abolition of permanent post has caused large scale resentment among the employees/ workers in almost all sectors. Bhalla added huge burden put on the working people by way of GST and withdrawal of subsidy on essential items of livehood are causing immeasurable suffering on the people.
Bhalla said that people in various areas of Jammu are receiving exuberant electricity bills and are running from pillar to post for getting it rectified but to no avail. Moreover, adding to their woes, the electricity department has also cut the connection as they failed to pay the bill. But the people are not at fault as PDD failed to collect monthly rent and now serving them yearly bills asking them to pay in one go. The PDD needs to put its own house in order vis-à-vis T&D losses, improvement in revenue collection etc.Former minister further said that BJP Govt has failed to introduce any initiatives for upgrading the power sector which could have a long-time impact on power generation and distribution so that the consumers get 24×7 power supply and 100 per cent electrification.
Nothing has been done in the housing and urban development sector which could be instrumental in ensuring that the people of the state get quality facilities of modern urban living, failed to ensure J&K comes up as one of the model UT in the country," he said.He said there is no clarity and set procedure in public domain to reduce AT&C losses, strengthen the sub-transmission distribution network and electrification of un-electrified household schemes like RAPDRP, IPDS, DDUGJY & RGGVY Phase-II and Prime Minister's Development Package (PMDP). Having vast hydro power potential from where electricity is being supplied to several parts of India, but this is the reality that electricity generated in J&K is illuminating thousands of homes in Delhi, Punjab, Haryana and Rajasthan but new Union Territory is suffering from want of power, Bhalla added.