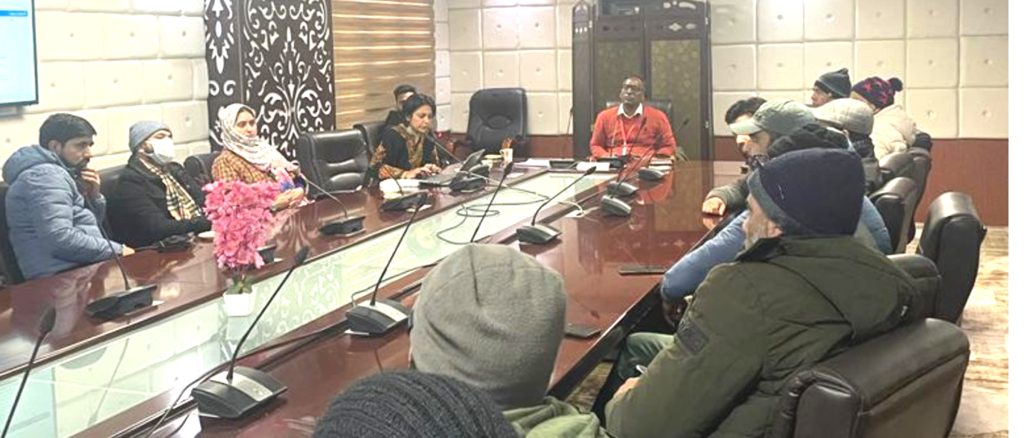 BIS Jammu and Kashmir Branch Office organized a Package Drinking Water Licensee's Meet at Directorate of Industries & Commerce Kashmir Office, Srinagar. It was attended by around 25 Manufacturers and Quality Personnel of PDW Industry of Kashmir Valley.
The program started with welcome address by Tilak Raj, Director and Head BIS-JKBO. He stated that BIS is now 100% Online. All the activities of BIS including Certification are carried out through e-BIS to make it more efficient and transparent. BIS is doing capacity building of the Industry through organizing Capsule Courses for their Quality Personnel, Licensee's Meet to discuss and resolve the issues of Licensees, Manak Manthans to get inputs on National Standards from the industry. He informed the
participants about new initiatives taken by BIS to upgrade Quality Ecosystem of the country such as establishment of standards Clubs in Educational Institutions at various levels. JKBO has established more
than 125 such clubs to imbibe importance of quality in young minds. He urged the licensees to partner with BIS in this noble cause though sponsoring Standards Clubs activities.
He said that JKBO is doing lots of work to bring Kashmir industry in main stream. For the purpose, Packaged Drinking Water Licensee's Meet has been organized in Srinagar. He requested the participants to best utilize this opportunity to understand Manakonline and Operational procedures for ISI Mark Licence.
Nisha Bura, Joint Director, JKBO presented PDW factories surveillance visits and Factory/Market Sample data along with Failure Analysis and risk assessment mechanisms. She also detailed about BIS certification procedures. Manakonline functionalities from Licensee's point of view was also demonstrated to the participants.
In the end, issues of licensees were also discussed. The meeting ended with a hearty vote of thanks by PDW manufacturers to BIS.