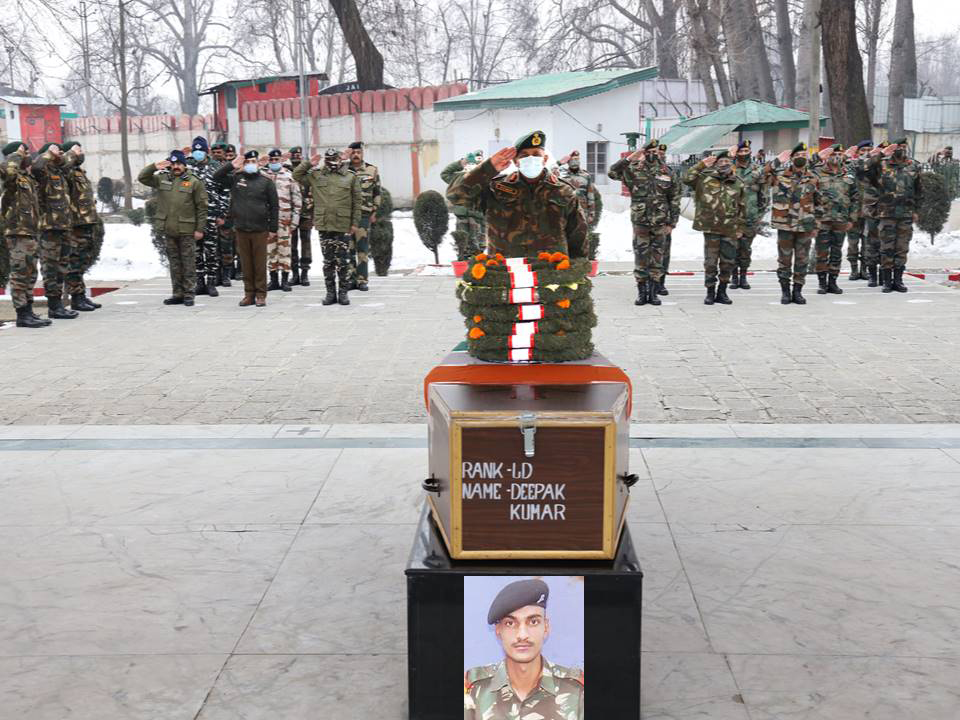 The Himalayan Mail, Srinagar, January 28
Army today, paid tribute to Lance Dafadar Deepak Kumar, who made the supreme sacrifice on 27 January 2021 at Shamshipora in Kulgam District. In a solemn ceremony at BB Cantt, Lt Gen BS Raju, Chinar Corps Commander and all ranks paid homage to the gallant soldier on behalf of the proud Nation.     
Late Lance Dafadar Deepak Kumar was leading a Road Opening Party on 27 January 2021. At around 10:15 am, Lance Dafadar Deepak Kumar was grievously injured due to an IED blast while sanitizing a vacant school building 150 meters away from NH 44. He was evacuated to 92 Base Hospital, where he succumbed to his injuries during treatment.
The Braveheart, Late Lance Dafadar Deepak Kumar, was 34 years old and had joined the Army in 2005. He belonged to Village Juddi of Kosli Tehsil, Rewari District in Haryana and is survived by his wife and a 10 year old son.
 The mortal remains of Lance Dafadar Deepak Kumar were taken for last rites to his native place, where he would be laid to rest with full military honours. In this hour of grief, the Army stands in solidarity with the bereaved family and remains committed to their dignity and well being.