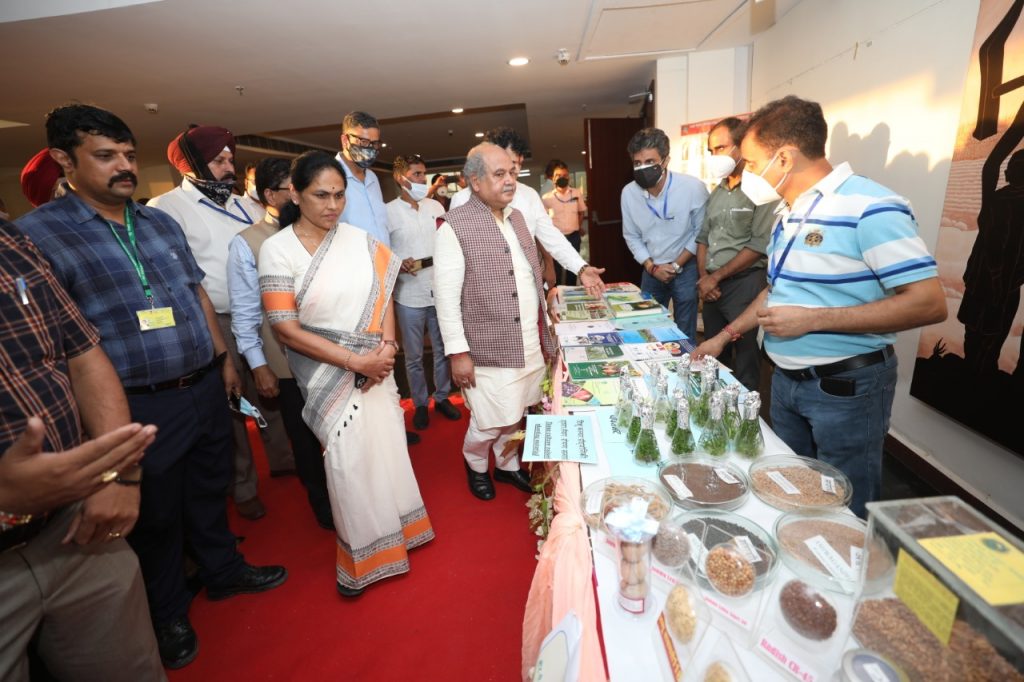 Narendra Singh Tomar, Union Minister for Agriculture and Farmers' Welfare today visited Sher-e-Kashmir University of Agricultural Sciences and Technology of Jammu and lays foundation stone of Gene Bank and Cold Storage facility at Mega Seed.
He was accompanied by Shri Kailash Choudhary and Sushri Shobha Karandlaje, Union Ministers of State for Agriculture and Farmers' Welfare, Sh. Farooq Khan, Advisor to LG, J&K Union Territory and Sh. Navin Kumar Choudhary, Principal Secretary, Agriculture and Farmers' Welfare, Govt. of Jammu and Kashmir Union Territory.
The Ministers also visited Integrated farming system, newly developed laboratory of School of Biotechnology besides flagging off Beej Vahan to mark the launch of Rabi campaign at Mega Seed unit of SKUAST-Jammu. The minister inspected exhibition stalls laid by farmers', agri-startups and KVKs of University.
The Union Minister in his address on the occasion said that he is feeling happy by visiting SKUAST-Jammu and has seen a transformation in agriculture sector of J&K Union territory. He appreciated the efforts and activities of Vice Chancellor, SKUAST-Jammu and SKUAST-Kashmir for bringing development and sea change research and extension in both the Universities benefiting the farmers of Jammu and Kashmir. He said that out of 201 recommendations of M. S. Swaminathan Committee constituted in 2003, two hundred recommendations were implemented by present government.
The Union Minister informed the gathering that Rs 158000 cr rupees have been transferred in the bank accounts of 11 Lakh farmers of India under PM Kisan Samman Nidhi Yojana whereas Rs 1723 crores have been transferred to the farmers of UT of J&K. The government is following the procedure for fixation of Minimum Support Price of Agricultural Produce as recommended by Swaminathan committee which is fifty percent more of the cost of cultivation. However, the MSP announced recently for Rabi crops is almost 100 percent more than the cost of cultivation. The present Budget of Agriculture has also increased to Rs 123000 cr which was Rs 23000 cr in 2014.
Union Minister appreciated the efforts of Central Government for formation of 10000 FPOs to strengthen the 85% of Marginal and small farmers of India. He said Kisan Credit Card scheme was launched by the Vajpayee Govt has saved the farmers from the clutches of Money lenders. Union Minister also informed that the document related to role of agricultural education in National Education Policy 2020 will be released shortly by the ICAR.
Meanwhile, prestigious multi crore ICAR/ World Bank sponsored Institutional Development Plan (IDP) project was also launched during the function at Baba Jitto Auditorium of SKUAST-Jammu.
Sh. Navin K Choudhary, Principal Secretary, Agriculture and Farmers' Welfare, Govt. of Jammu and Kashmir Union territory also spoke on the occasion and raised the issues and demands pertaining to infrastructure development, establishment of Agricultural Technology Information centre, centre for organic agriculture, development of farms of university and sanctioning of more AICRPs.
Earlier, the Union Minister and team inspected exhibitions and stalls demonstrated by the KVKs of university, farmers, start-ups, etc. During the programme, progressive farmers of UT of J&K were felicitated for their contribution in agriculture and allied enterprises. Sh. Kulbhushan Khajuria and Sh. Tejinder Singh, progressive farmers also spoke on the occasion.