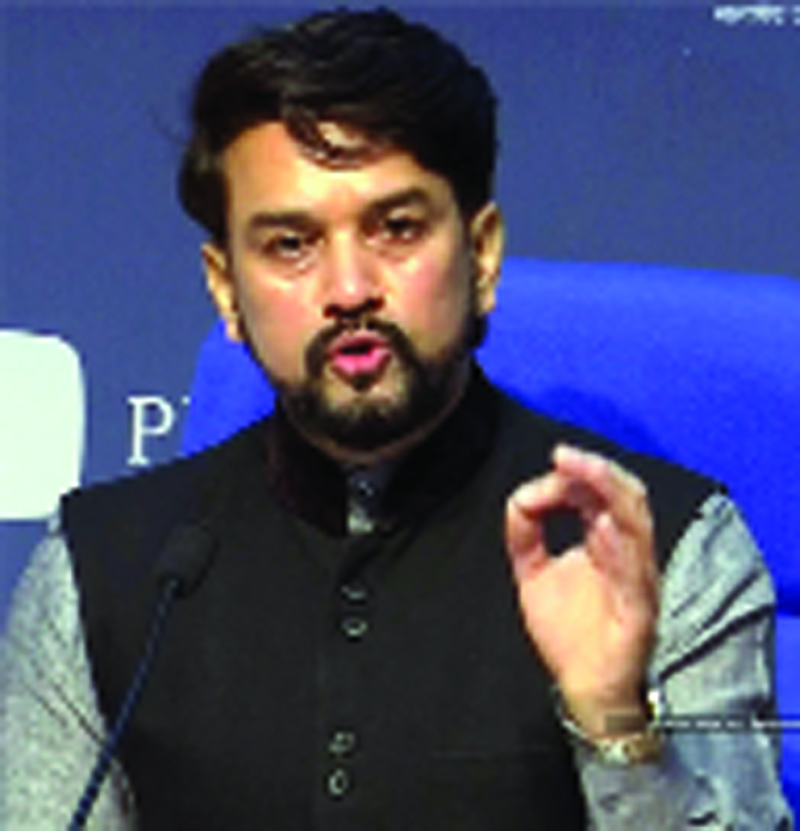 New Delhi, Jan 18:
Union Minister Anurag Thakur today recalled a 'yatra' he undertook in 2011 to hoist the tricolour at Srinagar's Lal Chowk but was arrested upon entering Jammu and Kashmir, and said it was because people voted for Prime Minister Narendra Modi that Article 370 could be abrogated in 2019.
"It was almost like hoisting the tricolour was banned in our own country. In the same country, eight years later, when Modiji became the prime minister due to your votes, Article 370 and 35 A were abrogated forever," said Thakur.
Addressing an event at the Federation of Indian Chambers of Commerce & Industry (FICCI) remembering Subhash Chandra Bose ahead of his birth anniversary on January 23, Thakur said the government today is working to create an India the legendary freedom fighter dreamt of.
Thakur talked about 'Rashtriya Ekta Yatra' he had undertaken in 2011. He was leading the Bharatiya Janata Party's youth wing, BJYM, at that time. He and other senior BJP leaders including then leaders of Opposition in Lok Sabha and Rajya Sabha – the late Sushma Swaraj and Arun Jaitley – were arrested after entering Jammu. The state then had a National Conference government led by Omar Abdullah.
Thakur said the 'Yatra' started from Kolkata on January 12 and was to culminate in Srinagar on January 26 with the hoisting of the national flag at Srinagar's Lal Chowk. Other issues that were raised included not allowing the dilution of the Armed Forces (Special Powers) Act (AFSPA), and to ensure that J&K is not given "greater autonomy", Thakur said.
"When we entered Jammu Kashmir, I was arrested and put in jail so that I can't hoist the tricolour at Lal Chowk on January 26. Leaders of Opposition Arun Jaitley and Sushma Swaraj were also arrested," said Thakur.
On August 5, 2019, the Modi government passed two resolutions in Parliament – first rendering Article 370 inoperative in Jammu and Kashmir by applying the power granted under the same Article, and second for bifurcation of the state into two Union Territories – Jammu and Kashmir, and Ladakh.
Thakur also said the tricolour was hoisted across J&K during the Har Ghar Trianga campaign.
Talking about Bose, the Union minister alleged the freedom fighter who led the Indian National Army (INA) was "forgotten" after independence.
"After independence, successive governments tried to wipe away Netaji. His contribution was never mentioned. I don't even want to talk about what was there in textbooks which even called Bhagat Singh ji extremist," Thakur said.
Thakur stated that in order to achieve the dream of Netaji, it is important to spread awareness among the youth. "We have to work continuously to spread Netaji's achievement to every citizen of the country and the government is also working proactively in this direction. There are a lot of learnings which need to be adopted by our youths to prosper in life," he said.
He added the dream of Bose for India is being fulfilled today.
"What can be the true tribute to Netaji? What kind of independent India did he want to see? The independent India that Netaji had dreamt of, the country that can lead the world, the dream is being implemented today. India is hosting the G20 presidency this year. We have the SCO presidency, UNSC presidency was ours till recently," he added.