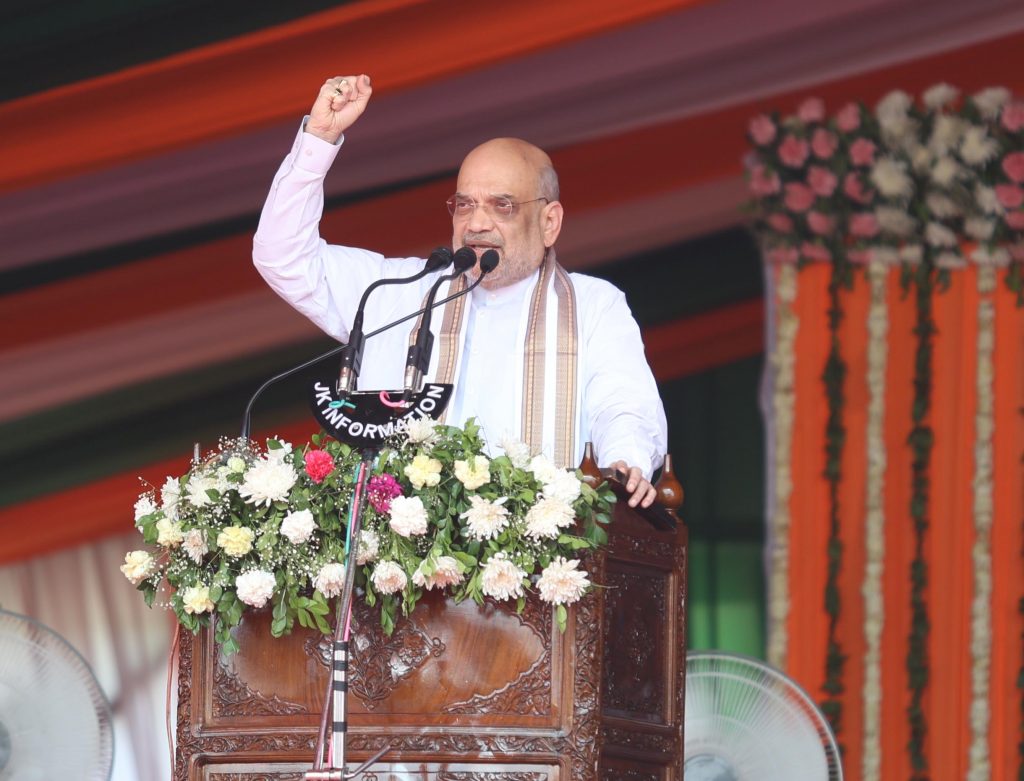 Jammu, June 23 (UNI) Taking a jibe at the Patna unity meet of the opposition parties, Union Home Minister Amit Shah on Friday said they (opposition) cannot defeat Prime Minister Narendra Modi, and the Bhartiya Janata Party will win 300 plus seats in 2024 Lok Sabha poll to form the government.
"A photo session is going on today in Patna," Shah took a jibe addressing a public rally organised on the occasion of 'Balidan Diwas' of Dr Syama Prasad Mookerjee here.
Shah is on two-day visit of Jammu and Kashmir.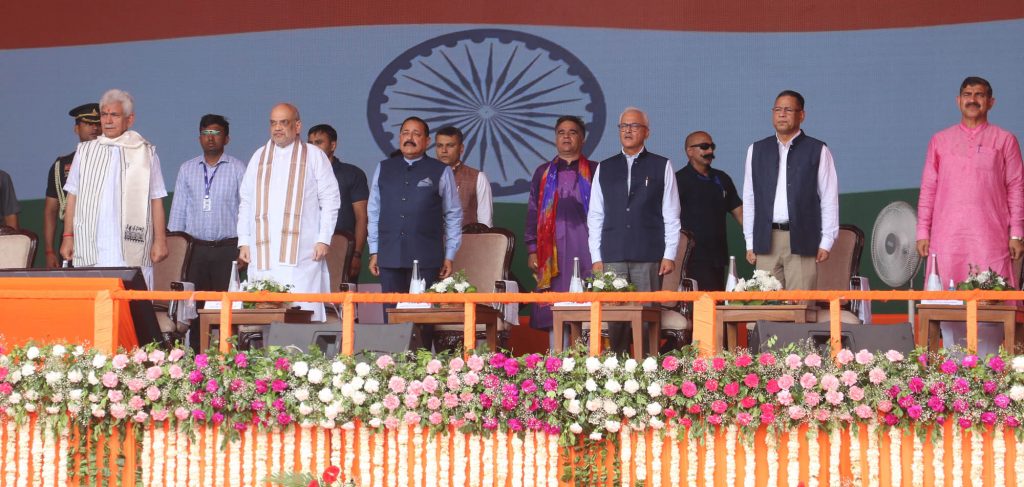 "All opposition parties are joining hands to defeat Modi but, I want to tell them that you will not stay united and even if they do, cannot defeat Modi," said Shah.
Lashing out at the Gandhi's, Abdullahs and Mufti's, Shah accused the three families of being responsible for the killing of 42000 people in Jammu and Kashmir from 1947 to 2014.
He also congratulated the Lieutenant Governor Manoj Sinha and security forces besides the administration for the successful conduct of G-20 in Srinagar stating that the participants have gone back to their respective countries with a message of peace and harmony.
"Gone are the days, when three families would rule and ruin J&K. From 1947 to 2014, 42000 people were killed in J&K, who was ruling during this period," he said.
Paying tributes Dr Syama Prasad Mookerjee on his death anniversary, Shah said, "Dr Mookerjee was illegally arrested in 1953 for entering J&K without a permit."
"Why need a permit for entering one's own country. He was jailed and later assassinated," Shah said, adding the "soul of Dr Mookerjee will be resting in peace as his mission and vision of Ek Vidhan, Ek Nishan and Ek Pradhan stands fulfilled."
Dr Mookerjee was the first to oppose the inclusion of Article 370 into the Indian constitution on the pretext that "one nation can't have two flags, two constitutions and two heads."
"On August 5, 2019, Prime Minister Narendera Modi revoked the Article 370 forever and fulfilled the vision of Dr Mookerjee," Shah said, adding, ' If West Bengal is with India today, it was due to the vision of Dr Mookerjee. "
Shah further said that India is celebrating nine years of PM Modi's rule, adding, "Modi's rule is an open book. It is not like UPA that did worth lakh crores scam. There is not even a single corruption allegation against Modi during his nine year rule."
He further said, "Jammu is touching new heights of development and today multi-crore projects were inaugurated in the city."
Shah said the BJP tightened noose on terrorism and today "terrorism is on the death bed," adding, "in UPA's ten year rule, there were, 60,327 terrorism incidents but in Modi's nine year rule, terrorism touched its lowest ebb."
In 47 months after abrogation of Article 370, there were only 32 calls of strikes while stone pelting declined by 90 percent," he said adding, "Youth of J&K have replaced stones with laptops and books."
Shah said that in 2022, for the first time, 1.88 Crore tourists visited J&K.
Shah while seeking support for Modi from the people of Jammu for 2024 parliamentary polls, said there is no comparison between "Rahul Baba and Modi."
"Rahul Baba always opposes. Either it was Art 370, Ram Mandir or Tripple Talaq, Rahul Baba has become an opposing personality," Shah said.
"We will win over 300 seats in 2024 polls," he said.
Shah, before leaving for Kashmir, later will pay obeisance at Tirupati Mandi in Jammu.