Stresses on organic farming, increasing productivity of small and marginal farmers through technological interventions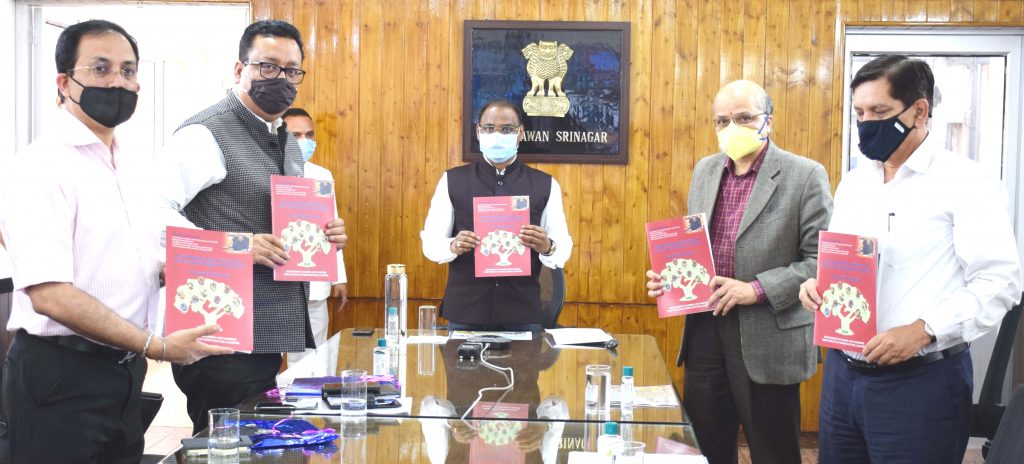 Srinagar, July 07: Lieutenant Governor, Girish Chandra Murmu today called for branding of local produce of Agriculture and allied sector as Geographical Indications for their distinctive identity and better marketing globally. The Lt Governor stated this while launching Kisan Pakhwada here at Raj Bhavan.
Advisor to the Lieutenant Governor, Sh. Rajeev Rai Bhatnagar (through video conferencing); Sh. BVR Subrahmanyam, Chief Secretary, Sh. Bipul Pathak, Principal Secretary to Lieutenant Governor; Sh. Navin Kumar Choudhary, Principal Secretary to the Government, Animal and Sheep Husbandry, Agriculture/Horticulture & Cooperatives department; Sh. R K Chhibber, Chairman J&K Bank; Deputy Commissioners of Udhampur, Reasi, Doda, Baramulla, Kupwara and Bandipora (through Video Conferencing), besides senior officers were present on the occasion.
The Lt Governor emphasized on enhancing agricultural productivity for small and marginal farmers through technological interventions. Since the landholdings per capita are shrinking, increasing productivity is the key to sustainable Agriculture, he said. He called for developing Mobile based Applications and softwares etc for better interface with the farming community.
Stressing on organic farming, he observed that more and more Soil Health Cards must be issued to the farmers, which would lead to better yield and more income, while obviating the excess use of chemicals in the agricultural fields.
The Lt Governor further called for 100% saturation of Kisan Credit Cards, besides developing backward-forward linkages for improved marketing opportunities for the farmers' produce.
Chief Secretary, BVR Subrahmanyam observed that agriculture and allied sector contributes about 30% to the GDP of J&K, with two-third of the population dependent on agriculture. Around 9.8 lakh beneficiaries have benefited under PM Kisan Nidhi scheme, which is among the best in the country, he added.
 Principal Secretary to the Government, Agriculture & Horticulture department, Navin Kumar Choudhary informed that Basmati of RS Pura has qualified all the international parameters for declaring it as an 'Organic product'.
While highlighting initiatives of the Government for the development of Agriculture and allied sector, he informed that there are 9 lakh active Kisan Credit Card holders in J&K, who would be advanced the credit, saturating the KCC segment and thereby doubling the rural credit.
Recent and upcoming interventions in the Agriculture sector include Market Intervention Scheme (MIS) for the Apple of J&K  to provide optimum value to the apple growers, providing +GI tag to the Saffron of Kashmir, setting up of a national Electronic Marketing platform (eNAM) in the mandies of J&K for facilitating online trade of fruit etc. Due to large scale production of quality trout in Anantnag, the district has been declared as Trout District of India, it was informed.
Chairman J&K Bank, RK Chhibber informed about the coverage under PM KISSAN, KCC etc, besides disbursements under priority sector lending, as also about the Bank's working during COVID-19. He briefed that under the Kisan Credit Card scheme, J&K Bank is providing hassle free credit facilities at an effective rate of interest at 4%, subject to terms and conditions of prompt repayment with no guarantee and no mortgage for loan upto Rs 1.60 lakhs.
Deputy Commissioners of 6 Districts – Udhampur, Reasi, Doda, Baramulla, Bandipora and Kupwara handed over sanction letters and cheques of loans under Kisan Credit Cards to the beneficiaries during the launching ceremony of Kisan Pakhwada.
Meanwhile, a book on Horticulture in Kashmir was also launched by the Lt Governor. He advised for translation of the book in local languages to reach out to the larger population.