70% students qualify the exam; girls excel again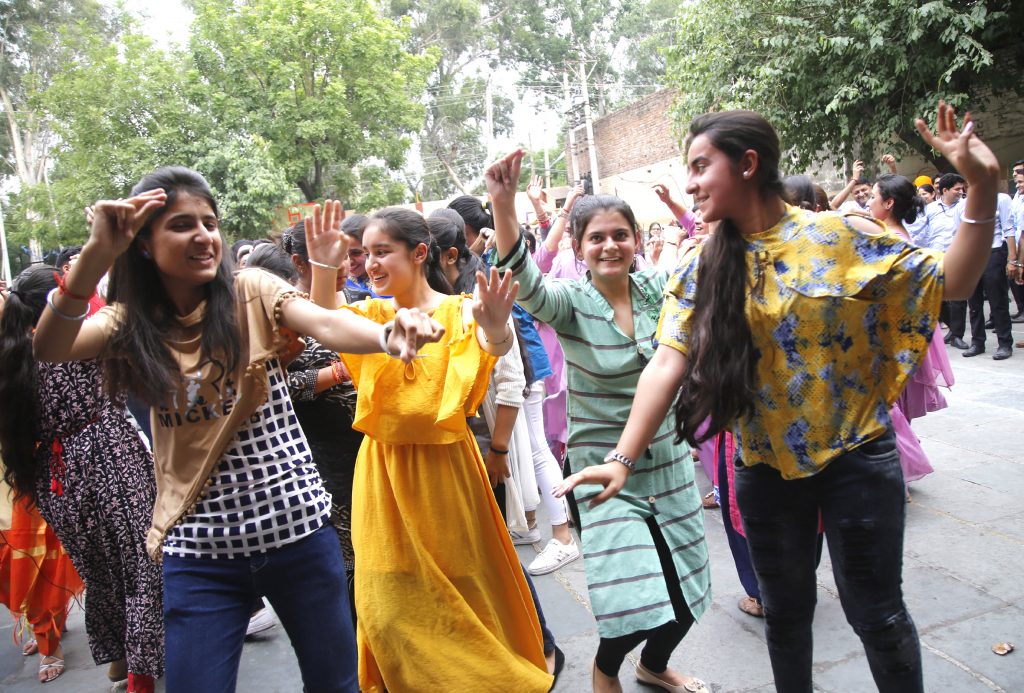 Despite a lot of disruptions, distractions and innumerable challenges posed by the spread of COVID-19 pandemic and consequent lockdowns, J&K Board of School Education has successfully concluded the evaluation process of Secondary School Examination (Class 10th), Session Annual, Regular, 2020, Summer Zone of Jammu Division with the declaration of its result today.
Spread over 541 Examination centres, 53807 candidates appeared in the said examination, out of which 29487 were boys and 24320 were girls. Girls have again outnumbered boys by scoring a pass percentage of 72.00 whereas boys stand at 68.%. 3,465 students got A1 grade, 4,999 got A2 grade, 6,033 students got B1 grade, 7,549 got B2 grade, 8,469 got C1, 6,229 stood at C2 grade whereas 723 got D grade.
The result was formally declared at 11.00 A.M. by Prof. Veena Pandita, Chairperson, JKBOSE in the gracious presence of Shri K.K.Sharma, Advisor (S) to Hon'ble Lt. Governor of the Union Territory of J&K through Video Conferencing joined by Dr.Asgar Hassan Samoon(IAS), Principal Secretary School Education Dept., and Sh. Riyaz Ahmed,(KAS) Secretary JKBOSE, (also through V.C.), Ms. Anuradha Gupta (KAS), Director School Education and Dr.Sudhir Singh, Joint Secretary Secrecy, JKBOSE.
Worthy Advisor expressed satisfaction and congratulated the student community, parents and members of the civil society for timely announcement of the result despite many odds. "The govt. is fully conscious about the future of the students and every possible effort is being done to secure the future of students, despite the attenuating and extra-ordinary circumstances due to pandemic COVID-19. I appreciate JKBOSE for being an exemplary COVID Warrior and hope that the same perseverance continues," he added.
While congratulating the students, Dr.Asgar Hassan Samoon, Principal Secretary School Education Dept., also appreciated the role of JKBOSE and School Education department for their concerted and coordinated efforts to ensure academic welfare of the students in tough times of pandemic threat.
Prof. Veena Pandita, Chairperson, JKBOSE expressed her gratefulness to the Advisor(S), School Education Dept., entire Divisional and District level administrative machinery, Secretary JKBOSE, whole team of the officers and officials of JKBOSE Jammu Division and teachers who have directly or indirectly contributed for the flawless conduct of examination followed by immense cooperation in evaluation. "JKBOSE is committed for the cause of education and has come up with this result well before the announced dates. The result has been quite satisfactory with an overall pass percentage of 70 %. I congratulate the successful candidates and wish luck to those who could not qualify this time. They should not get discouraged and should work hard for the next chance provided as another opportunity to improve and grow", she added.
In order to facilitate the access of students to the result , the JKBOSE has made adequate arrangements through various media. The result is available online on the official website of JKBOSE www.jkbose.ac.in and on www.indiaresults.com as well. The candidates can also avail SMS facility by sending the text message to 5676750 by typing jkbose10 followed by a space and Roll No. e.g., " jkbose10 Roll No.". Those who don't have access to Mobile Phones or internet can get their results from their nearest JKBOSE office where the soft copies of result gazettes have been provided. The result is also available in the offices of the Deputy Commissioners of the concerned districts for the convenience of the students and general public.