Jammu to pioneer India's first Cannabis Medicine Project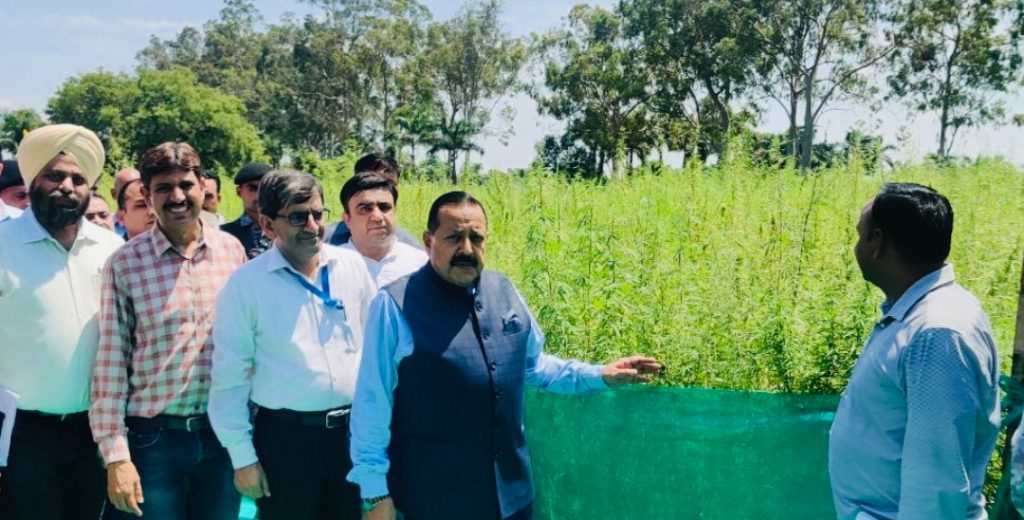 Union Minister of State (Independent Charge) Science & Technology; MoS PMO, Personnel, Public Grievances, Pensions, Atomic Energy and Space, Dr Jitendra Singh today said, Jammu is going to pioneer India's first Cannabis Medicine Project.
'Cannabis Research Project' of CSIR-IIIM Jammu is a first of its kind in India initiated under the leadership of Prime Minister Narendra Modi, in Private Public Partnership with a Canadian firm, which has a great potential to put substance of abuse for the good of mankind especially for patients suffering from neuropathies, cancer and epilepsy.
Dr. Jitendra Singh said this during a visit to the Cannabis Cultivation Farm of CSIR-Indian Institute of Integrative Medicine at Chatha near here to get the first-hand information about the cultivation practices for Cannabis in the protected area of the institute and research work being carried out on this important plant.
The Minister said, this project of CSIR-IIIM is also important from the perspective of Atma- Nirbhar Bharat as after getting all the approvals, it will be able to produce export quality drugs meant for different kinds of neuropathies, diabetic pains etc. 
Dr. Jitendra Singh said, since J&K and Punjab are affected by drug abuse, this kind of project will spread awareness that this substance of abuse has diverse medicinal uses especially for the patients suffering from malignancies and other diseases.
Dr. Jitendra Singh said, the signing of scientific agreement between CSIR-IIIM and IndusScan was historic not only for J&K but for whole of India as it has the potential to produce those kinds of medicines which have to be exported from foreign countries.
This kind of project will give an impetus for huge investment in Jammu and Kashmir, Dr. Jitendra Singh added.
While appreciating CSIR-IIIM for this project, Dr. Jitendra Singh said, CSIR-IIIM is the oldest scientific research institute in India with the history of discovering mint way back in 1960s, the centre of purple revolution and now the Cannabis Research Project of CSIR-IIIM is going to make it more prestigious in terms of scientific research in India.
During the field visit, Dr Jitendra Singh took stock of the one acre protected area where CSIR-IIIM is presently doing large scale cultivation of superior accessions of Cannabis.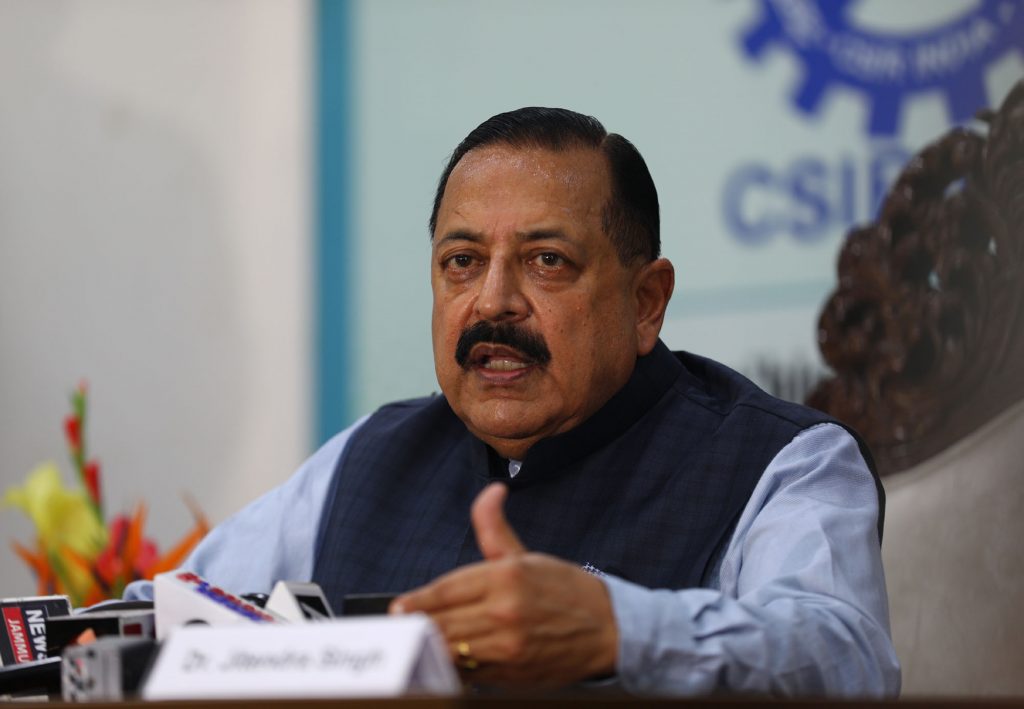 The Minister also visited the glass houses with climate control facilities where research work on improving the varieties for desired cannabinoid content is being performed.
Dr. Jitendra Singh complimented the efforts of the CSIR-IIIM for pioneering research in exploring the therapeutic properties of Cannabis, a plant which is otherwise prohibited and known for abuse. The Minister expressed his satisfaction over the research work conducted on Cannabis Project by CSIR-IIIM and also acknowledged the immense potential of cannabis-based treatments in addressing various health conditions.
Dr. Jitendra Singh emphasized the importance of using latest technology and the cultivation practices for increasing the produce that would help the farmers. Dr. Jitendra Singh also stressed the need for developing newer indigenous varieties that would suit the environmental conditions of our country. He also highlighted the role of biotechnology in this endeavour and encouraged the researchers to continue pushing the boundaries of scientific development.
While briefing the media on the occasion, Dr Jitendra Singh said, Cannabis is a wonder plant from which FDA has approved the drugs such as Marilnol/nabilone and Cesamet for treatment of nausea and vomiting, Sativex for neuropathic pain and spasticity, Epidiolex, Cannabidiol for epilepsy and being used elsewhere in countries. In J&K, the license was granted to CSIR-IIIM, Jammu for research and protected cultivation and upon permission of GMP manufacturing, the rest of pre-clinical and clinical studies would be completed.
Dr. Zabeer Ahmed, Director, CSIR-IIIM, apprised the Union Minister that at present CSIR-IIIM has a repository of more than 500 accessions collected from different parts of the country. The scientists of the institute are working in different directions to provide the end-to-end technology for Cannabis cultivation, drug discovery with emphasis on disease conditions like pain management in cancer and epilepsy. He further informed Union Minister that under a tripartite agreement of CSIR with Department of Biotechnology (DBT) and Indian Council of Medical Research (ICMR), CSIR-IIIM has completed the exploratory research on Cannabis after license for cultivation of Cannabis for scientific purpose was granted by J&K Govt. For further pre-clinical regulatory studies related to management of Cancer Pain and epilepsy, it is very important to carry out GMP manufacturing for pre-clinical and clinical studies which are mandatory requirements of the discovery of newer therapeutic drugs. An application to get license from Excise Department of J&K Govt. For GMP manufacturing and transportation of Cannabis material exclusively for scientific purpose has been submitted long back which is still under process, he informed
Pertinently CSIR-Indian Institute of Integrative Medicine is the pioneer in the Cannabis research and obtained the first license for cultivation in the country. Following this, many other states like Uttrakhand, Utter Pradesh, Manipur, Madhya Pradesh and Himachal Pradesh have started making the policy and rules for use of Cannabis for scientific purpose.
Among others present on the occasion were Er. Abdul Rahim, Chief Scientist and Head RMBD & IST Division, Dr. Dhiraj Vyas, Sr. Principal Scientist & Head, PSA Division, Dr. Sumit Gandhi, Sr. Principal Scientist & Head, IDD Division, Dr. P.P. Singh, Principal Investigator, Cannabis Research Project and Dr. Saurabh Saran, Principal Scientist and I/C Technology Business Incubator and Atal Incubation Centre.