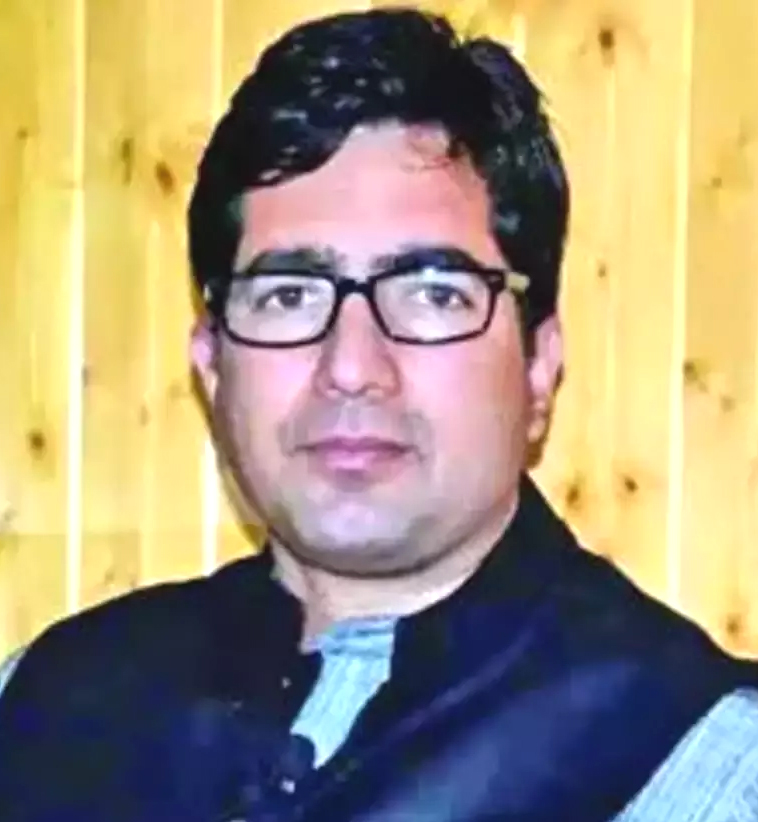 Shah Faesal
In Kashmiri language, the word for rainbow is Rama Doon, meaning Rama's Bow. Doon also means the bow string used for fluffing cotton by local quilt-makers. As a child growing up in a sleepy village close to the Line of Control, my fascination with this word, Rama Doon, surpassed the wonder evoked by these elusive arcs as we chased them across the walnut groves.
Who was this Rama who owned such a colorful bow, and why would a rainbow have such a mysterious name? Or was it about some quilt-maker; as a child I often asked these questions to my father, a schoolteacher and a self-taught polyglot? But every time I did so, he would reply with two lines from a Kashmiri lullaby Ram Ram Bhadren Booni, and then quickly put on his teacher's hat and remind me that VIBGYOR was the correct order of the colors in the rainbow – V for violet, I for Indigo and so on. By the time our duet ended on R for red, I knew that Rama's discussion had to be left for another day.
This question never really got answered and no one could tell me whether Lord Rama had ever visited Kashmir for the rainbows to be named after him. Were Kashmiri people even familiar with Ramayana given that Kashmiri Pandits strictly followed the Shaivite tradition? According to Kalhana's Rajtarangani, a 12th-century historical chronicle, Ramayana used to be recited in Kashmir during the times of Damodara -2, a king whose period is traced to the 2nd Century BC. But then, after so many centuries and historical changes, was Rama still a part of the Kashmiri consciousness, and how our generation of Kashmiri Muslim youth paid unconscious homage to Lord Rama's legacy? These were some of the other things that I wanted to understand.
Our village had a sizeable population of Kashmiri Pandits who lived near the market while we lived towards the hills. But by the time I turned six, our Pandit neighbors had already migrated due to terror threats. I hardly remember anything from that time. But I do vividly remember those wintery evenings when smoky winds would drop warm ash and burnt pieces of paper over our compounds as we looked at the ominous but distant blazes towards the east of the village. A house every night – that was how the Kashmiri Pandit houses would be torched – after they had migrated to Jammu and terrorists, both local and from faraway lands, ruled the streets. Winds carried burnt notebooks, shreds of clothes, and charred walnut leaves from these empty Pandit homes showered all over the village as if winds were snatching from flames the forbidden pieces of history.
With Kashmir becoming a hotspot of global Jihad, would anyone have told us about Rama and Ramayana at that hour of the night? No.
It was many years after this, during my District Training as an IAS probationer when I became interested again in these haunting questions of the past. During a field visit to Sutharan village in the Budgam district of Kashmir, I was amazed to learn about the local retelling of Ramayana. The village Sutharan or Sitharan, a slice of heaven with lush-green meadows and pine forests but without even a proper road those days, was as per the local folklore, the place where Ravana had abducted Sita Ji, Lord Rama's wife.
A feshwater spring and a large rock nearby were pointed out to me as the exact spots where Sri Ramchandra, Sita Ji, and Lakshman had visited sometime during the 14-year exile of Lord Ram. Nearby was another village named Kanchetpora (in Kashmiri Kanchet means one with a torn ear), apparently a reference to Shurpanakha, Ravana's sister whose ear and nose were chopped by Lakshman as per the Valmiki's Ramayana.
It was incredible that the local Muslims of Sutharan had a perfect recollection of these events.
With the advent of Islam in the fourteenth century, the majority population in Kashmir acquired a new faith but the Kashmiri consciousness continued to remain rooted in the universalism of Shaivism and Sufi Islam. The teachings
Did Lord Rama visit Kashmir during his exile?
of Lalla Ded and Sheikh ul Alam created a Kashmiri subject who didn't make a distinction between Hindu and Muslim. This Kashmiri subject valued syncretism and transcendental spiritual experience more than the rigid dogmas of organized religion. As part of cultural production, art, poetry, music, architecture, crafts, festivals, and religious practices emerged that brought together elements from Islam, Hinduism, and Buddhism, making Kashmir a sui generis case of peaceful coexistence.
Nevertheless, Lord Ram's journeys through a land where Lord Shiva was the reigning deity continued to intrigue me till I came to know of another place around 150 Kilometers from the Sutharan Village. That was Farkin in district Kupwara, a small hamlet high in the hills, totally unrelated to Sutharan village. There also, an area called Raja Ram ki Ladi had a similar legend associated with it and a fresh-water spring nearby called Sita Sar is said to have been visited by Sita Ji during the years of Lord Ram's exile.
Farkin, Kupwara in that sense is very similar to Orcha, Madhya Pradesh, one of the very few places in India where Lord Rama is remembered as Raja Ram or King Rama.
It is no surprise that for many millennia Lord Rama has persisted like a light in the Kashmiri consciousness, in Kashmiri idiom, folklore, legend, art, ways of thinking, sayings, place names, written materials and the memory of Lord Ram's sojourn in Kashmir must be cherished as part of our civilizational memory. From Indonesia to Thailand, and Cambodia to Kupwara, Rama is the recurring motif in our common spiritual canvas that stretches across oceans and continents. And more importantly, Sri Ram, called Imam-e-Hind, by Allama Iqbal, is the well-spring of India's spiritual fountain and the rainbows over Kashmir will always remind us of his blessed sojourn in the Valley.
(Shah Faesal is an IAS Officer from J&K. He tweets @shahfaesal)