Rs 15 Lakh sanctioned for MED staff welfare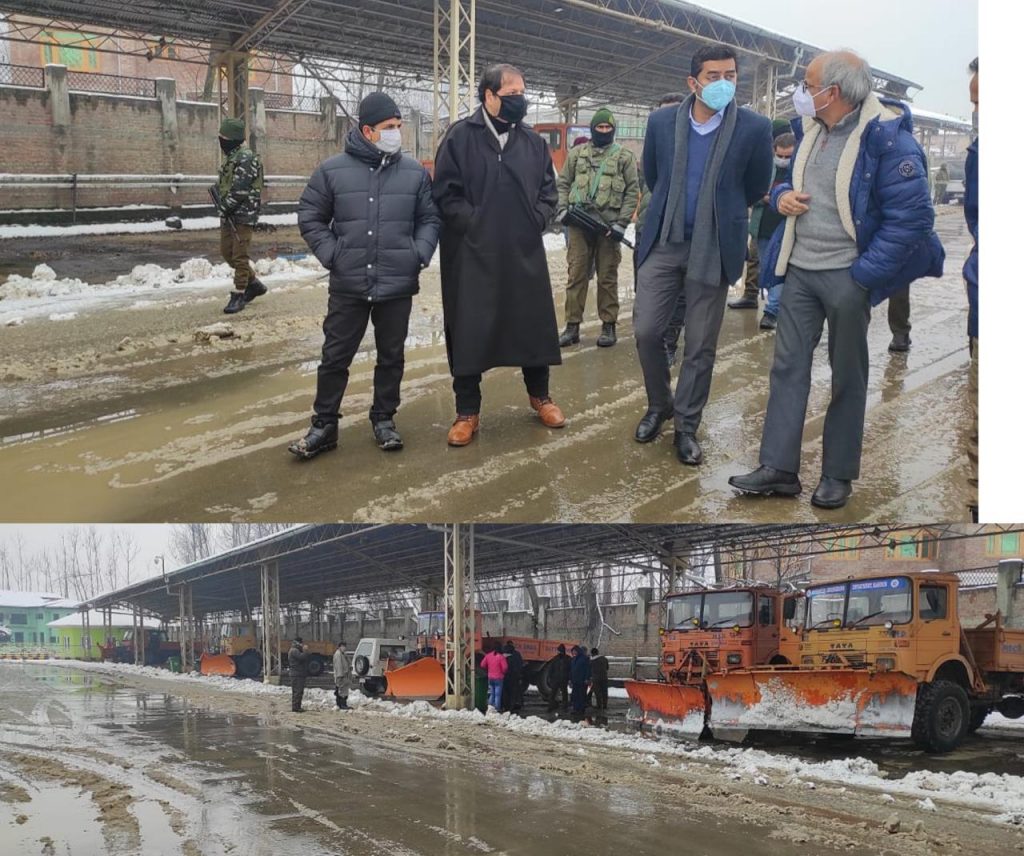 SRINAGAR, JANUARY 4
Deputy Commissioner Srinagar, Shahid Choudhary along with Chief Engineer, Mechanical Engineering Department, Abdul Rashid Dar monitored the progress of snow clearance and visited the central control room and workshop to assess response system for snow clearance in the district.
The machinery and equipment deployed more than 1250KM main roads in District Srinagar includes 30 snow ploughs, 13 Snow cats, 23 truck mounted machines , 6 tippers / dumpers and a fleet of smaller vehicles. The MED is entrusted with snow clearance from all main roads in the district. The Deptt also deputed two Hydraulic / LRV cranes for recovering any damaged machines during the operation.
The DC sanctioned Rs 15 Lakh for better facilities , heating and food arrangements as well as protective equipment for staff deployed at central control room and round the clock duty of snow clearance as per roster. He also visited the workshop of the department , control room and staff accommodation to assess the facilities. The district administration is augmenting the resources for effective support to field staff for snow clearance and ensuring better facilities.
He appreciated the engineers, staff and field workers of MED for their exemplary response system and putting in best efforts for timely and effective snow clearance.
Chief Engineer MED Abdul Rashid Dar informed that Pre-positioning of machines at vital locations and early start of operations helped in timely clearance of snow from all areas. He also have the details of staff deployed and further requirements for effective operations.
Meanwhile , PMGSY machinery was deployed in snow clearance from respective rural roads. The PMGSY work plan is restricted to departmental roads while all PWD roads are being cleared through MED.
Earlier, the DC reviewed the snow clearance response system with Superintending Engineers and Executive Engineers of PWD and PMGSY. ADC Syed Hanief Balkhi and Jt Director Planning Mohammad Yaseen Lone were also present.
Pertinently the lanes and by lanes are cleared of snow by Srinagar Municipal Corporation in the city area , covering around 900KM cumulative length of lanes /by lanes while MED is entrusted with all major roads.