Chief Secretary Arun Kumar Mehta, steering committee, rights for persons with disabilities, sipda scheme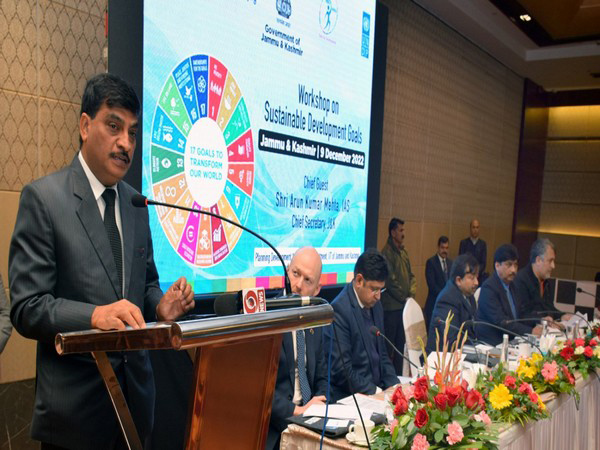 Chief Secretary Arun Kumar Mehta on Monday emphasised the need for having public infrastructure amenable to specially-abled people for their easy access to them, especially schools and health institutions of the UT.
Mehta made these remarks while chairing the 22nd Steering Committee meeting of the Scheme for Implementation of Rights for Persons with Disabilities (SIPDA) here.
The meeting was attended by the Principal Secretary of H&UDD; the Principal Secretary of PWD; the Principal Secretary of, Education; the Commissioner Secretary of Social Welfare; the Commissioner Secretary IT and Information Departments; the Secretary of Transport; the Deputy Commissioner of Jammu; DG, I&C, Jammu; Directors of Social Welfare Department and other concerned officers.
The Chief Secretary stressed taking all the measures possible for making public offices and infrastructure accessible to such persons. He advised them to have ramps and rails in every office especially those visited often by such persons. He told them to have disabled-friendly washrooms in such buildings besides signages and other facilities for assistance to such persons. He advised them to take both short-term and long-term measures to tackle this issue.
In terms of adopting innovative approaches, the Chief Secretary underscored the need for establishing a helpline with a nodal officer who could facilitate them in getting appointments with senior officers or offices in administration.
He told them to create waiting halls for these persons on the ground floor of these offices for meeting the officers to apprise them about their issues. He also directed giving suitable accommodation to specially-abled employees on the ground floor of the office they are working at.
He enjoined upon them that it is the social obligation of all of us, besides our moral responsibility, to assist them in every manner. He asked them to have wheelchairs available in the main offices for their ease, besides providing them help in reaching the particular place in the office complexes.
The Commissioner Secretary, SWD, Sheetal Nanda apprised the meeting that the SIPDA Scheme has been formulated by the Government of India to provide a barrier-free environment for persons with disabilities which includes access to the built environment in schools, colleges, academic and training institutions, offices and public buildings, recreational areas, health centres/hospitals etc.
This also includes provision for ramps, rails, lifts, an adaptation of toilets for wheelchair users, brail signages and auditory signals, tactile flooring, causing curb cuts and slopes to be made in the pavement for the easy access of wheelchair users, she adds. It also enlists engraving on the surface of zebra crossing for the blind or for persons with low vision, engraving on the edges of railway platforms for the blind or for low vision and devising appropriate symbols of disability, etc, as was discussed in the meeting.
It was made out that government websites should also be accessible to PwDs as per guidelines issued by NIC and the Department of Administrative Reforms and Public Grievances (D/o AR&PG), Government of India. The concept behind this scheme is to achieve universal accessibility that will enable persons with disabilities to gain access to equal opportunity and live independently and participate fully in all aspects of life in an inclusive society. (ANI)