LG lays foundation stone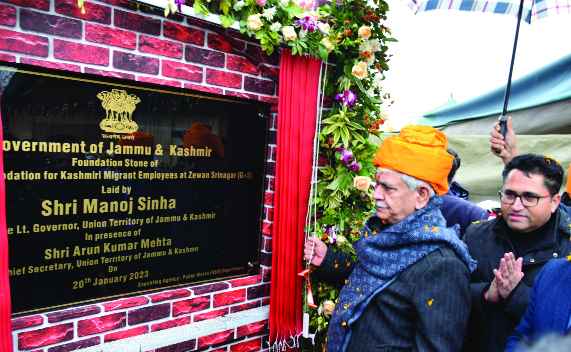 Himalayan Mail News
Jammu, JAN 20
The work on the long-awaited transit accommodation for PM package employees has been taken up in Srinagar, with LM Manoj Sinha laying its foundation stone at Zewan today.
The foundation stone has been laid against the backdrop of the recent killings of some KP employees in the valley but the government has shown its resolve to move ahead with its plans by giving a hoot to terrorists and their mentors sitting across the borders.
The housing colony, under PMDP, is being constructed on 113 kanals of land by the R&B department. It will have 39 blocks comprising of 936 flats.
After laying the foundation stone, the LG interacted with officials at the site and laid emphasis on timely completion of the project. He said the maximum PM Package employees were based in Srinagar and with the creation of this facility, their housing problem would be solved.
Earlier in the month of December 2022, Siunha had conducted the on-site inspection and took first hand appraisal of the ongoing construction work of transit accommodations for PM Package employees at Baramulla and Bandipora in Kashmir.
Chief secretary Arun Kumar Mehta, divisional commissioner Pandurang K Pole, ADGP, Kashmir, Vijay Kumar and secretary, department of disaster management, relief, rehabilitation & reconstruction, Nazim Zai Khan were among those present on the occasion.