Today, Sopore aspires to become a Smart city.  The citizens want good roads, world-class infrastructures and modern facilities for quality living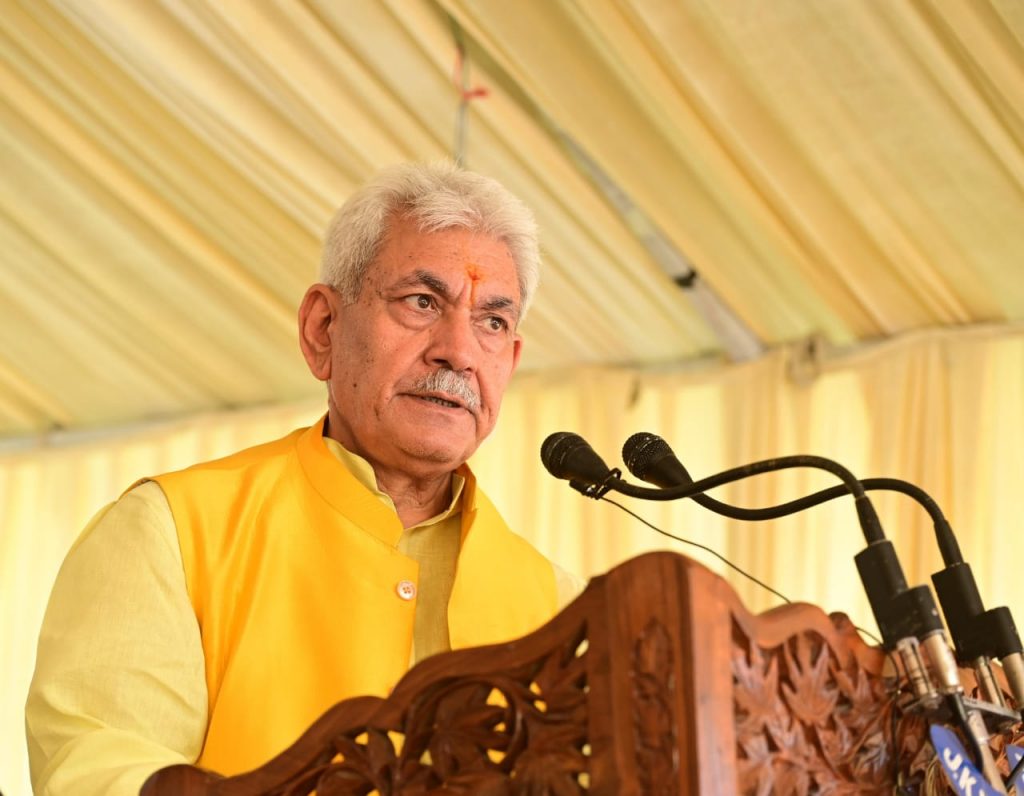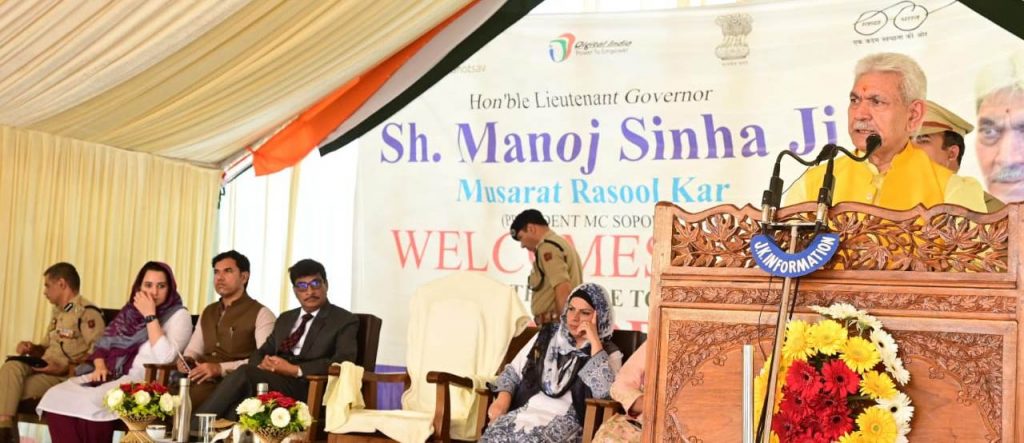 The Himalayan Mail, Barajulla, Sep 7
Lieutenant Governor Shri Manoj Sinha today visited Sopore and inaugurated various development projects.
He laid e-foundation stones for upgradation of inner link roads of Sultanpora Goshbugh and Auglar costing Rs 6.29 cr, and Water Supply Scheme Parihaspora and Peripheral Parihaspora under Jal Jeevan Mission worth Rs 57 crores.
In his address, the Lt Governor said the projects dedicated to the people and the new works initiated today will improve the overall quality of life, and remove the socio-economic and regional imbalances in development.
"Development is our commitment; it is our religion. The administration is determined to attend to developmental needs of people without any discrimination. We have successfully implemented a vast spectrum of economic activities and historic transformations are taking place in all areas," the Lt Governor said.
The Lt Governor reiterated the UT Administration's resolve to fulfill the aspirations of the people of Jammu Kashmir.
"Sopore has a rich history of communal harmony and prosperity but also has had its own unique challenges for inclusive development. The UT Administration has taken many important steps in three years that reflect the firm commitment of Hon'ble Prime Minister Shri Narendra Modi Ji to rapid development and inclusive growth," he said.
Addressing the gathering, the Lt Governor called upon the people to actively participate in beautification and development of Sopore.
Today, Sopore aspires to become a Smart city. The citizens want good roads, world-class infrastructures and modern facilities for quality living. We need to work together with the spirit of Jan-Bhagidari to change the destiny of our aspirational towns and villages, the Lt Governor.
He also shared the efforts of the government for rapid development activities across UT to build a peaceful and prosperous society.
"Many cities and towns of J&K UT today exhibit impressive manifestations of all-round development. We have dismantled the ecosystem of conflict profiteers, terrorists, secessionists and there is a strong yearning among all sections for peace, prosperity and accelerated development," the Lt Governor said.
The Lt Governor appealed to the people to remain vigilant against the divisive elements in the society. It is also the duty of every citizen to protect the public property and the tangible cultural heritage, he added.
Responding to the demands projected by the public representatives, the Lt Governor assured that the government will explore every possibility to address the genuine demands in a time-bound manner.
Ms Safina Baig, DDC Chairperson, Baramulla and Ms. Musarat Kar, President Municipal Council Sopore expressed gratitude to the Lt Governor-led UT Administration for giving special focus to the development of Baramulla and Sopore in particular.
The projects inaugurated by the Lt Governor include Office Complex of MC Sopore worth Rs 1.96 cr; Development of Park at Chinkipora Ward of MC Sopore at a cost of Rs 40 lakhs; Public Park at Mahrajpora costing Rs 53.27 lakhs; Open Air Gym Park near Bypass Bridge Upper Ashpeer worth Rs One cr and Upgradation of Vohlutra Shitloo road including allied links at Vohlutra Arkharwari Valanwari Doonwari road costing Rs 6.50 cr.
The Lt Governor also distributed sanction letters to beneficiaries under various schemes.
Dr Arun Kumar Mehta, Chief Secretary; Sh Vijay Kumar, ADGP Kashmir; Sh Vijay Kumar Bidhuri, Divisional Commissioner Kashmir, Dr Syed Sehrish Asgar, Deputy Commissioner Baramulla, senior officers, public representatives and a large number of people were present.