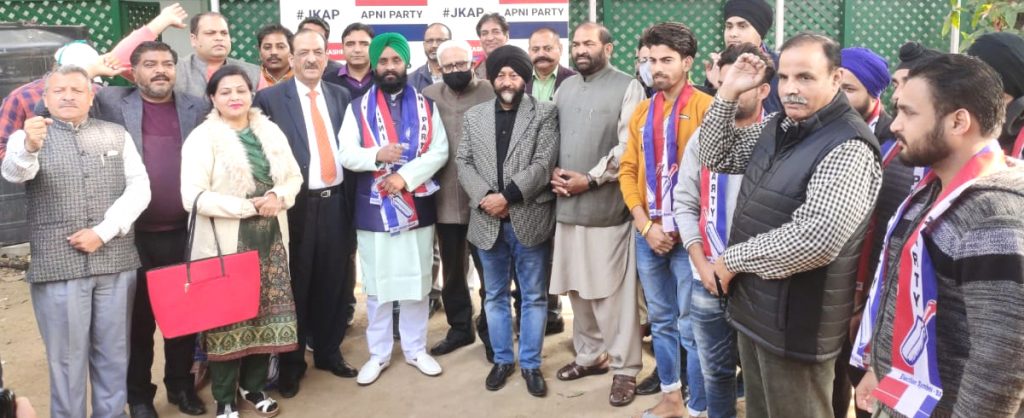 The Himalayan Mail, Jammu, February 10
A Jammu and Kashmir National Panthers Party senior leader among many today joined the Apni Party at Gandhi Nagar.
The joining programme was organized by Shanker Singh Chib at the party office in which Ex-Minister and Senior Leader Mohd Dilawar Mir, General Secretary Vijay Bakaya, Provincial President Manjit Singh were also present.
Provincial President, Women Wing, Namrta Sharma, State Coordinator SC Bodh Raj Bhagat were present on the occasion.
The JKNPP General Secretary S. Zorawar Singh expressing faith in party's developmental agenda joined Apni Party alongwith other leaders in presence of senior leaders. 
Ex-Minister and Senior Leader, Apni Party Mohd Dilwar Mir welcomed them into the party and hoped that their joining will strengthen the party.
Prominent among those who joined the party included Madan Lal Sharma, Rajinder Khajuria, S. Sujan Singh, S. Gagandeep Singh, Gourav Bhagat, S. Arjun Singh, S Sukhmeet Singh, S. Gurcharan Singh, Sandeep Charak, Subham Charak, S.Manmeet Singh, S. Jasbir Singh and others.
Ex-MLA Faqir Nath, Ajaz Kazmi, Saleem Choudhary, Gourav Kapoor, Abhay Bakaya, Sushail Khajuria, Sheetal Singh, Gowhar Rashid Wani, Ashraf Choudhary, Dr Rohit Gupta.