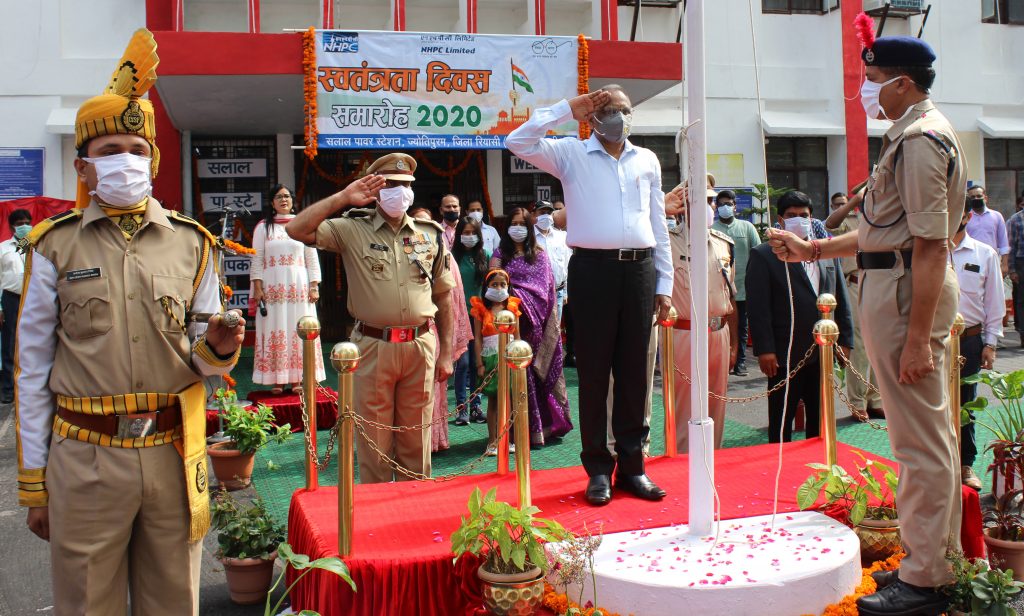 74th Independence Day was celebrated with great enthusiasm at Salal Power Station, Jyotipuram. The chief guest of the program, Shri N. Ram, Head of Power Station, hoisted the national flag and a CISF contingent paid Guard of Honor to the National Flag. In the wake of epidemic like COVID-19, ensuring the compliance of all the guidelines issued by the Government. It was organized in Administrative Building- in which the officials of Salal Power Station, CISF personnel and family members of employees participated.
The Head of Power Station addressed the gathering and congratulated the Independence Day. He remembered the immortal martyrs who sacrificed their lives to make Mother India independent. On this occasion, the Head of Power Station mentioned the achievements of NHPC. He said that NHPC is making significant contribution to the progress and development of the country by supplying power to 23 states of the country. Salal Power Station is playing its important role in the development of the country by generating more power than its rated capacity of 690 MW. He further stated that Salal Power Station has set new height by surpassing the last highest monthly generation record since its commissioning, by achieving monthly generation of "532.72 MU" during the month of July 2020 which is surely a historic and remarkable achievement For this, he congratulated the entire Salal team and hoped that in future also they will continue to work hard with full dedication.
He said that during this pandemic, while fulfilling our social responsibilities we have done many social works in various villages under CSR-SD scheme of NHPC. He also mentioned free medical camps organized in various villages by Salal Power Station.
On this occasion, the Corona Warriors were also honored by the Head of Power Station for meritorious services during the epidemic. These mainly include sweepers and contract workers engaged in essential services. The ceremony took place in a cordial atmosphere.
On the occasion of Independence Day, all the major buildings of Salal Power Station were lighted.
Central University of Jammu (CUJ) celebrated 74th Independence Day at in its campus Rahya Suchani. Hon'ble Vice Chancellor, CUJ Prof Ashok Aima hoisted tri-color and the National anthem echoed in the entire campus.
Addressing University's staff, the Prof Aima stated that under the leadership of Prime Narendra Modi India has emerged as self reliant country in the world and India's development touching new highest with each passing day.
Aima also discussed the milestone achieved by the University his tenure. "The Central University of Jammu started functioning from 08th August 2011 with just three Post Graduate courses and one research programme. From 2015 onwards central university of Jammu excelled in academics and research by opening number of research and academic fields which includes more than 57 programmes, 02 Research Chairs under the aegis of 19 Departments, 03 Centres and 01 College", he said.
He VC said that in order to gain advancement in science and technology Central University of Jammu under the aced leadership of Vice Chancellor Prof. Ashok Aima started new Satish Dhawan Centre for Space Science in 2018 and Kalam Centre for Science and Technology in 2019. Along with this 03 New Programs were also approved by UGC in 2019.
"Since 2015, number of research projects has been approved to the different departments under different themes making research much more versatile, vivid and interdisciplinary and thereby contributing to the knowledge economy of the country. At present, more than 72 major/minor research projects of academic and social relevance are undertaken by the faculty members", Prof Aima informed the gathering.
University, though in its nascent stage has taken several initiatives for promotion of academic and research by instituting several awards for students and faculty like Best Teacher Award, Best Innovative idea by University student, female entrepreneur/student of the region- Rs.25000.00, Minor Research Projects, Best Researcher award Mathematical Olympiad award, the VC said.
"The University has been accredited by NAAC as B++ with 2.88 score besides participated in National Institutional Ranking Framework (NIRF). The central university of Jammu has also mobilised the resources of 126 crores for academic activities other then UGC through different agencies which includes Research/Consultancy Projects sponsored by DST, ICSSR, SERB,IUAC, NBHM, /DRDO/ISRO/ Other Projects", Prof recollected the major achievements while addressing the staff.
 "In order to provide quality education in university has also conducted 04 round of selections to fill more than 65% teaching and non-teaching posts at various levels since 2015 to 2019. It has also made collaboration and linkages with the national and international institutions by signing 31 MoUs. It has also collaborated with Scientific Labs of Repute which includes IIIM-Jammu, Punjab University, Chandigarh, National Physical Laboratory, New Delhi, IISER, Mohali", he said.
SKUAST-J celebrates Independence Day
VC calls for adopting agriculture centric global vision with localized action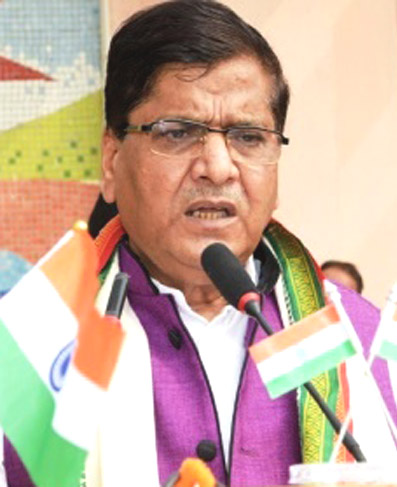 Vice Chancellor, Sher-e-Kashmir University of Agricultural Sciences and Technology of Jammu, Professor, J.P. Sharma, hoisted the national flag at Main Campus, Chatha on the occasion of 74th Independence Day.
The national event started with the garlanding portrait of Father of Nation – Mahatma Gandhi, followed by the National Anthem.
In his address, the VC appreciated and complemented Agricultural Scientist, farmers and other associated workers who worked tirelessly at the time of COVID-19 pandemic towards achieving Atma Nirbhar Bharat (Self- reliant India).
He also desired to adopt agriculture centric global vision with localized action. He lauded the role of Krishi Vigyan Kendras towards achieving self-sufficiency in food production and skill development since this agency works at district level for the uplift of the farmers, farm women and rural youth. He appraised that the agriculture sector contributes 17 per cent in the country's GDP, 45 per cent population getting direct employment from the farm sector. He said Rs One lakh Crore Agriculture infrastructure fund allocated by the Prime Minister of India will empower the farm sector and help doubling farmers' income by 2022 will be a reality. He further stressed that the country has achieved sufficiency in food production, but processing, value addition, marketing and branding is equally important to raise percent share in GDP. It will help to explore the huge potential of providing employment to a large chunk of unemployed rural youth of the country, he added.
He informed the gathering that government of J& K has asked SKUAST-Jammu to prepare a vision document on doubling farmers' income. Besides, Department of Science and Technology (DST), New Delhi has also given responsibility to SKUAST-Jammu to prepare a road map for the holistic development of Union Territories of Jammu and Kashmir and Ladakh. He urged the scientists to explore viable areas of diversification, input use efficiency, value addition, artificial intelligence, nano-technology, entrepreneurship development and startups in agriculture for the holistic development of this sector.
On the occasion, Prof Sharma thanked The Metropolitan Asian Family Services for providing Pramod Kumar Student Scholarship Fund worth Rupees Ten Lakh to the students of SKUAST-Jammu. There was also a remembrance in honor of those who sacrificed their lives to fulfill the dream of making an independent and developed India.
The programme was attended by Directors, Deans of various faculties, Heads of departments/KVK's/Research Station, Officers, Officials, Teaching and non-teaching staff of SKUAST-Jammu following COVID-19 SOPs. A small cultural programme was also arranged by the kids of different staff members of the university on the occasion.
Arun Kumar Choudhary, Managing Director hoisting National Flag at Jammu.
Chenab Valley Power Projects (CVPPPL) celebrated the 74th Independence Day on 15 th August, 2020. CVPPPL has been incorporated for execution of 03 Hydro Electric Power Projects namely Pakal Dul, Kiru and Kwar with an aggregate capacity of 2164 Mega Watts at Chenab river basin in District Kishtwar of Jammu and Kashmir.
The main function was organised at its Corporate Office Jammu. Sh Arun Kumar Choudhary, Managing Director unfurled the National Flag and congratulated the employees and their families on Independence day and paid tribute to the sacrifices of our freedom fighters in achieving independence and stressed that it is our responsibility to maintain it. He also advised to adhere to the guidelines regarding Covid-19 Pandemic. He emphasized the need to dedicate ourselves for completion of Pakal Dul & Kiru HE projects which will bring growth and development of the nation in general and Kishtwar region in particular. Independence day celebrations were also held at Pakal Dul HE Project, Kiru HE Project and Kwar HE Project at Kishtwar.